Candida Diet Recipes
Use the free candida diet recipes on this page to help you overcome the annoying and painful symptoms of Candida.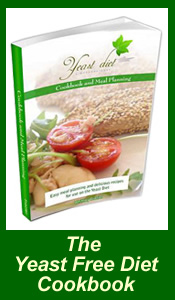 Yeast Free Cooking
Over 100 delicious candida diet recipes for meals you can eat during candida cleansing. Quick and easy download for immediate access.
Order it Here!
If you need more candida recipes to help make your candida cleanse so much easier to accomplish, you can also consider this great cookbook.
Be sure to also look over the
candida recipes for breakfast
for some yummy suggestions.
If you are suffering from
candida symptoms
, you definitely need to get serious about a
candida diet
. Once you understand the basic
candida diet guidelines
you can take advantage of these candida diet recipes to help you stick to it.
Also, don't forget to include the natural supplements for a full
candida cure
as they will make all the difference to a quick and full recovery.
Candida Diet Recipe Ideas
You always miss what you can't have the most. Ugh! That's the story of my life when it comes to dieting for any reason. As soon as you tell me I can't have something, that's all I seem to crave!
If you are suffering from Candidiasis, you really have to avoid yeasts and yeast feeding foods. You're probably going to go crazy wanting bread.
Here are some good substitution recipes that you can make that are wheat and gluten free along with some other tasty candida diet recipes. Enjoy!
OAT BREAD RECIPE (wheat free)
2 1/2 cups oats

1/2 cup of soya flour

Hot water to mix

Handful of sunflower seeds

3 tablespoons extra virgin olive oil


Preheat oven to 375°F (190°C). Mix together the oats, soya flour and sunflower seeds. Stir in the oil and mix with hot water to make a dough consistency.
Shape into a round ball, using oats to coat the dough. Cut a cross on the top and place on a baking tray. Bake for 30-40 minutes. Check to see if it is done by tapping the bottom for a hollow sound. Cool on a wire rack.
YOGURT-SODA BREAD RECIPE (wheat free)
1 lb. (450 grams) coarse oatmeal

2/3 cup (150 ml) warm water

2 teaspoons baking powder or baking soda (bicarb)

1 1/4 cup (300 ml) natural yogurt


This candida diet recipe will make two small loaves or one large one.
Preheat oven to 390°F (200°C). Sift together flour and baking powder. Stir in yogurt and warm water, mixing well. Coat the mixture with more oatmeal and cover working surface with oatmeal. No kneading is necessary. Divide into two fairly flat, oval shapes, cut a cross on the top, and place on an oatmeal floured tray.
Bake in preheated oven for 30 minutes, then turn down to (180°C) for another 20 minutes. Test if it is ready by tapping the bottom – should sound hollow. Top with poppy seeds and other seeds for a really professional look.
CORN BREAD RECIPE (gluten free)
1 cup fine maize meal

1 cup soya flour

1/2 cup of whole, brown rice flour

2 teaspoons homemade baking powder

1 egg (use extra soy milk if allergic to eggs)

1 cup soy milk


Preheat oven to 375°F (190°C). Mix dry ingredients. Beat egg and soy milk together and add to the mixture. Place in a buttered loaf tin and bake for 30 minutes.
(If this tastes too strongly of soya, exchange quantities of rice and soya ie,. 1 cup brown rice flour and half a cup soya flour). This candida diet recipe has a lovely cakey texture, and makes delicious toast. Needs to be eaten within two days.
MOIST CORN BREAD RECIPE (gluten free)
1 cup fine maize meal

1/2 cup soya flour

1 cup of whole, brown rice flour

1-2 cups soy milk

1 teaspoon baking soda (bicarbonate)

1 1/2 tablespoons cold-pressed olive oil


Preheat oven to 390°F (200°C). Mix dry ingredients and stir in oil. Add sufficient soy milk to obtain dropping consistency. Place in a buttered loaf pan and bake for 30 minutes.
WHEAT FREE OAT CAKES
2/3 cup (150g) medium oatmeal

1 teaspoon unsalted butter

1/2 cup (125 ml) boiling water


Preheat oven to 355°F 180°C. Put oatmeal into a bowl. Put butter into a heatproof jug and pour the boiling water onto it. When butter has melted, pour liquid onto the oatmeal and mix well. Leave for a few minutes till oatmeal swells and becomes workable.
Turn on to well-floured board and divide into two balls. Roll each ball into a small round and cut across it four times to make eight wedges. Roll each wedge very thinly. Place on baking sheet and bake for 30 minutes. Wedges will be slightly curved and light golden.
MILLET BUNS (gluten free)
1 cup millet

1 tsp baking powder

3 eggs

1 cup grated carrots

2 tbs. cold water

(25g) unsalted butter

3/4 cup of boiling water


Preheat oven to 375°F (190°C). Mix baking powder and flour together, rub in the butter, and then mix in the carrots. Pour in boiling water and mix well. Separate the eggs, beat the yolks and add cold water, then add to the flour mixture.
Whisk the egg whites until stiff and fold into the mixture. Butter some bun tins and spoon mixture in, not quite to the top. Muffin tins are good for this. Bake for 25 minutes.
GLUTEN FREE PASTRY
2/3 cup (150g) brown rice flour

1/4 cup (75g) soya flour

2 tbs cold-pressed olive oil

Water to mix


Preheat oven to 375°F (190°C). Mix dry ingredients, add oil and mix with fork. Add water to form dough. This pastry is tricky to roll, so you may wish to do it between two sheets of greaseproof paper.
Sprinkle the lower sheet with rice flour, place dough on it, then put a second piece of greaseproof on top and flatten with a rolling pin. When it is rolled, remove top piece of paper and carry dough to dish on bottom piece of paper. Invert dish on to it, then turn dish right way up, allowing pastry to fall into it. Push into shape.
MAYONNAISE
1 egg

2 tbs lemon juice

1 1/4 cup (300 ml) cold-pressed sunflower or olive oil

Pinch mustard powder

Freshly ground black pepper

1 tbsp boiling water


Beat egg and lemon juice, using whisk or blender, till creamy. Add oil very gradually, beating continuously. Add seasonings, and lastly beat in boiling water. Add a clove of garlic for garlic mayonnaise.
Candida Diet Recipes For Soup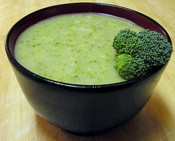 Soups can be made easily using steamed or saute'd veggies and a blender. These candida diet recipes are really simple and they are very tasty. I especially love them in the winter months.
Spinach Soup
Saute spinach in a skillet with olive oil and a little water and some fresh lemon juice. Scoop it into the blender and blend well. Add a little more water or lemon juice and seasonings to taste.
Broccoli and Cauliflower Soup
You can make broccoli soup or cauliflower soup, but I love the combination of the two together. Steam the broccoli and cauliflower in a vegetable steamer or just in a covered pot with an inch or two of water. Place in the blender with some butter, salt, and pepper and blend well. I sometimes like to add chicken stock or bouillon for added flavor.
Red Fish Soup
Saute and blend tomatoes, onions, garlic, celery, green pepper (capsicum), and dark leafy greens. Place in a soup pot and heat well. Add mung-bean noodles. About 5 minutes before serving add your choice of fish pieces (white fish, shellfish, etc.). Heat and serve.
Red Chicken Soup
Saute tomatoes, onions, garlic, green pepper (capsicum), celery, and spinach. Blend well. Pour into a soup pot and add cubed chicken and seasoning, heating well until chicken is cooked through.
Japanese Soup
Save stock from steamed vegetables and place 2 quarts in a soup pot and bring to the boil. Cut up scallions, and broccoli into small pieces. Add them to the stock along with a package of mung-bean noodles. Cook for 5-10 minutes. Add spinach leaves and pieces of your favorite fish and cook another 5 minutes or so. (If you like miso, you can use 5 tablespoons in 2 quarts of water instead of the vegetable stock if you prefer.)
I hope you will really enjoy these candida diet recipes. If you've created or discovered another good one, share it with the rest of us.
To your good health!
Special Thanks to Clinical Nutritionist Sally-Ann Creed for sharing some of these candida diet recipes with us.
Return from Candida Diet Recipes to Candida Symptoms
Return to All About Parasites Homepage