What Do Body Lice Look Like?
by LISA EMIGH
(USA)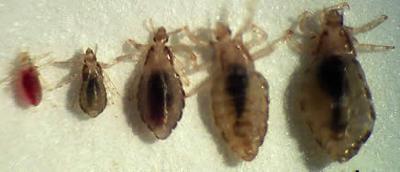 Picture of Body Lice (by Nutraceuticals)
What do body lice look like?


You mentioned that it was common for homeless people to contract body lice, but uncommon overall.
I am interested in seeting a picture of body lice. The parasite that I have I am sure that it is also on my dogs and cats.
My family of six is suffering. Removing the pest from humans is one thing, but how do we remove from the animals?
---
Hi Lisa,
What do body lice look like? The photo above from Nutraceuticals gives you an idea of what body lice looks like during it's different stages of growth.
Is this the type of parasite you are dealing with?
I'm not really sure if human body lice are active on animals, too. You may be dealing with something else entirely.
You may want to consult a vet for your pets to help identify the problem. Even if you don't want to use their recommended treatment, you may still benefit from knowing exactly what you are dealing with.
For humans, of course, I recommend taking some
Bear Paw Garlic
and using some raw organic apple cider vinegar internally (diluted in a glass of water) and externally (directly on your skin and/or mixed in your bath water).
You can also use the ACV on the pets, but it may not be sufficient to get rid off the problem - depending on what it really is.
You can also consider getting some anti-parasitic essential oils, like tea tree, or oregano, or Indian neem. That can be applied to the skin and/or bath water too.
I'm assuming you are actually seeing the bugs, and not just having itching, crawling sensations, right? If you can't see them, consider doing an internal cleanse with
Herbal Fiberblend
just in case you have an internal parasite that is to blame.
To your good health!
Angie