A Little Something About Us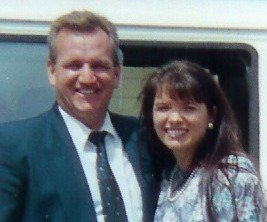 I thought you might like to know a little bit more about us if you are enjoying All About Parasites.com.

My name is Angie Berg, and my husband, Don, and I have been serving the Lord as missionaries in Australia since early 1997.


We love the country and we love what we do, for sure. Of course, our greatest joy is telling folks about our Lord and Saviour, Jesus Christ. 



I talk a lot on this site about parasite cleansing and colon cleansing for good physical health. But I have to say, it is far more important to have a "heart and soul cleansing" that will enable you to have eternal life. I'd love to tell you more about that if you will let me.


Anyway, back to my story...
In November of 2006 I started looking for something I could do online to earn a little extra money in my spare time to help out with some personal things I dreamed of doing for my family.


It was a nightmare trying to find something that wasn't a get rich quick scheme. I eventually, after much prayer, found a program called SiteBuildIt that teaches you step by step how to build a website that becomes a real business.


I must admit, I was hesitant to give it a try because I had absolutely no technical internet knowledge. I was able to email but that was about it. I decided to go for it, and was thrilled to build my first website, Chocolate-Candy-Mall.com. 


Within a year my site was ranking in the top page of Google search results for about 100 different pages and keyword phrases. I was so tickled, of course, I told all my friends about it.


From Chocolate Candy To Parasites???
No, I didn't get parasites from eating too much chocolate! Actually, a good friend of mine here in Australia, Kate Riedel, told me about an herbal cleanse, Herbal Fiberblend, that she and her family were taking to help get rid of any parasites and cleanse the colon. 

I knew I was past due for a good spring clean myself, so when I found out she was using Herbal Fiberblend, I told her I wanted to give it a try as well. I was somewhat familiar with the product because it has been around for over 20 years. In fact, one of my roommates back in my college days (we won't talk about when that was) was taking Green Barley Life every day, which is another really effective product by the same company.


Kate had fallen in love with these products and decided it was something she could really recommend with confidence. She began going to the local markets on Saturdays and helping people find relief from constipation and other bowel problems using Herbal Fiberblend and the immune building supplements, like green Barley Life, Just Carrots, and RediBeets.


That's where I came into the picture. When I started gabbing about how good my chocolate site was doing and what a blessing and encouragement it was, she came up with a brilliant suggestion. 


She said,


"Angie, would you consider building a site related to colon cleansing, etc., so that we could help more people as well as reach a wider audience?"


I told her I would think about it and pray about it. Within a few months I had prayed and done a bit of research, and we decided to take the next step. 


The more research I do, the more people I talk to, the more positive results I see, the more I am convinced that we were right in making this information and these resources available to people in an easy and straightforward fashion.


So many people are suffering unnecessarily from various health problems and are not getting healing or relief from "modern medicine." Even my own family members seem to deteriorate in health from taking so many synthetic prescription medications that don't heal or treat their health problems, but only mask the symptoms and create even more problems.


I am thoroughly convinced that we need to get back to some of the old paths when it comes to healing our bodies and maintaining good health. I believe that God has already provided in nature all that the body needs to heal itself. We just have to be willing to use those tools to feed our body so that it can take care of itself properly. 


Man has never come up with something more masterfully designed than the Creator Himself. Instead of trying to "create" something new to heal our diseases, we need to look back at the things He has created and utilize them to their full potential to enjoy good health.


...and so we have All About Parasites.com. I suppose it will always be a "work in progress" as we learn more of the "old stuff," but I do hope you find it to be a helpful resource for you and your family.


Kate and I will consider we have succeeded if we help some of you cleanse your body and even more of you cleanse your soul. Do let us know if we can be of help in any specific way. I hope, too, you have enjoyed learning a little bit more about us along the way.


Return from About Us to All About Parasites Homepage