Cold Sore On Lip?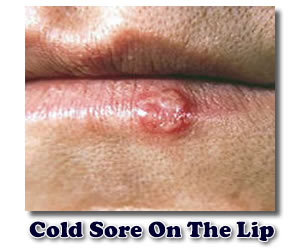 If you've experienced a cold sore on lip, mouth, or nose, you know just how painful and embarrassing this condition can be.


I've suffered from cold sores and/or fever blisters for as long as I can remember and they just aren't any fun.


Fortunately, I've learned how to control cold sore outbreaks so that I no longer have severe symptoms like my entire lips covered in blisters.


If I keep my immune system strong and keep a few little tricks up my sleeve, a cold sore on my lip is simply a minor inconvenience that lasts only briefly.


In fact, if I act quickly with my cold sores home remedies, the small blister I may get is often completely unnoticeable to others.


What Causes A Cold Sore On Lip, etc?

A cold sore is nothing more than the result of a virus that is lying dormant in your body waiting to pounce when your immune system is down or you are exposed to some particular "trigger."


The virus that causes cold sores is called Herpes, or more specifically, Herpes Simplex Virus Type 1 (HSV 1). I know that "herpes" sounds terrible and is most commonly associated with sexually transmitted diseases, but this form of herpes is contracted easily without any sexual contact at all.


Babies can be exposed to HSV-1 just by being kissed or touched by someone who already has the virus and before you know it, they can "catch" the virus and have to deal with cold sores the rest of their lives.


Having cold sores shouldn't make you feel stigmatized, but I know that many people do feel embarrassed or ashamed to have these cold sores on their lips. You need to learn to accept the fact that you have the virus in your system and how to deal with it effectively to manage or prevent outbreaks of the blisters.


These are common triggers for the onset of cold sores:


Too much sun

Too much acidic food or particular foods

Too much caffeine

Too much stress

Menstrual cycle

Weakened immune system

Some other illness



Some things can't be avoided and have to be dealt with, but as much as possible, learn what triggers your cold sore on lip outbreaks and take precautions.


For example, if you know you are going to be in the sun for any length of time, use a protective lip balm. Or, if you picked up a flu bug or some other illness, increase your vitamins and probiotic intake to strengthen your body's immune system.


Experiment with the various natural remedies for cold sores and find out which ones are most effective for you. Not everything works the same for each person, so you need to determine what works best for you.


I've discovered what gives me the best and fastest results and I take action the moment I start to feel that little tingling sensation on my lip that indicates the virus is on the move and is about to burst out with new life!


What about you? What do you do when you find yourself with the beginnings of a fever blister or cold sore on lip?



Cold Sore or Fever Blister, Comment or Remedy?
If you've found a particular medicine or natural remedy to be helpful in treating or preventing cold sores and fever blister symptoms, share them here.

Your comments may help someone else find a solution that works great for them! Be as detailed and descriptive as possible to be the most help.
Contributions by Other Visitors
Click the links below to see the comments or remedies from other visitors to this page.

You can add your own opinions and comments if you'd like to help...


Return from Cold Sore on Lip to All About Parasites Homepage

Home | Abreva Cold Sore | Cold Sore Remedies |