Bragg's ACV
by Lyndsey
(Scotland)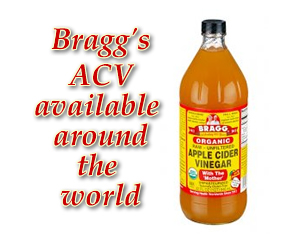 Bragg's Apple Cider Vinegar - A Worldwide Wonder
Is Bragg apple cider vinegar only available in the USA? I'd like to try it for a detox.


I live in Scotland. Can I get Braggs ACV anywhere here??
Thanks,
~Lyndsey
---
Hi Lyndsey,
I don't know if you can purchase Bragg's Apple Cider Vinegar anywhere in Scotland. You can check at your local health food stores.
If it's not available locally, I do have good news. I checked with
Puritan's Pride
and they do post to Scotland, so you can purchase Bragg's ACV there if you like.
To your good health!
Angie Berg from allaboutparasites.com