Do Head Lice Bite?
by Danielle
(BC, Canada)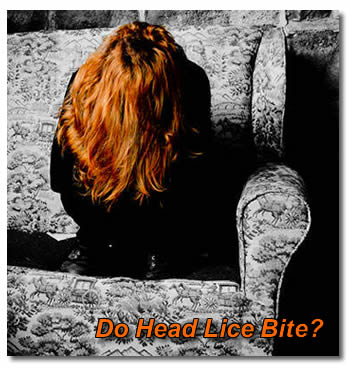 Do Head Lice Bite?
Do head lice bite if they fall on your skin?


First I thought I had head lice and did the treatment. No improvement so I did it again and again.
Now, white dots are falling from my head (I think) and biting me. Could it be Scabies?
I have little bumps on my arms and legs, and have sores on my legs (mostly on the right side), back and bums that take for ever to heal, and I feel terrible crawling on my head.
I have Morgellon Disease so could it be a severe attack. I never seen white specs on me before. They are usually black.
I don't know anymore. I just want to rip my skin off my bones.
Hope you can help me.
Thanks You.+
---
Dear Danielle,
When you first started the head lice treatment, did you actually see any lice, or were you just experiencing a lot of itching feelings on your head?
I guess what I'm asking is how confident are you that you had head lice in the first place?
Head lice are not really known to bite your body. There are are body lice, but they are something different entirely. It doesn't really sound like scabies either.
These white dots falling from your head, could they be a skin reaction to the lice treatment you used repeatedly? If you used a chemical based over the counter treatment, I would suspect that as a strong possibility.
Alternatively, you may have developed a fungal infection. Try rinsing your scalp a few times per day with sea salt in water and then applying a mixture of lavender oil and tea tree oil.
What are you using/taking internally and topically for your Morgellons? If your immune system is in a really weakened condition already fighting off Morgellons, you really need to support it 10x more than you normally would. Consider our suggestions for a natural
Morgellons treatment
.
With a weak immune system, you are going to be much more susceptible to all other types of infections, etc.
Did you already have the bumps and sores on your legs, bum, and arms before you started with what you thought was head lice, or is this new?
Unless you are actually seeing things biting you, your skin condition may be your body's reaction to something else - internal parasites, yeast (fungus) overgrowth, allergic reaction, etc.
Kindest regards,
Angie from allaboutparasites.com