Drinking Ionized, Alkaline, Kangen Water Has Changed My Life!
by DaVida Logan
(Portland Oregon)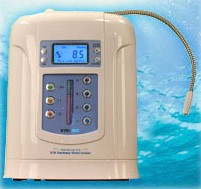 Model KYK Harmony Water Ionizer
I was introduced to the gift of ionized, alkaline, kangen water made by the Enagic machine.


I went from fatigued and dragging through the day to being able to function and get a lot done everyday in just a few days!
My body was feeling desperately thirsty all the time no matter how much I drank. I never felt hydrated.
A friend gave me the water and I could feel right away that the water absorbed and I started feeling a lot more energy.
Also, I tore my left knee tendons...they were a miserable thing to live with.
After a few weeks, I am no longer needing the brace. I was told it would take 6 months, I am walking just fine in 2 months!
I am happy to share my testimony about the water with anyone.
You can also learn more about the water and how many people have changed their lives, by simply "drinking the water".
There are great videos, including Dr. Shinya's work with patients and colonoscope views of how things changed inside with 90 days of drinking this water.
Remember, disease can NOT thrive in an alkaline body.
To your health and with Blessings,
Davida
---
Davida,
Thank you for sharing your experience with drinking ionized alkaline kangen water.
I've read some good things about kangen water, of course. I personally have purchased the water filters from
Aquasana
for my own family's use.
But the benefits of the kangen water seem to be well documented. If there are people interested in trying alkalizing ionized water similar to the kangen water for themselves but can't afford the enagic machine, I would recommend the
KYK Harmony Water Ionizer
.
The KYK is a fraction of the cost of the Enagic brand that you mentioned using, but the quality is very comparable, in my opinion.
It's my guess that the Enagic machine is a lot more expensive because of the MLM method of marketing. Costs have a tendency to be very inflated to cover the 'levels' of company members commissions.
For those wanting to drink healthy alkaline, ionized, water at the best price take a look at the KYK Harmony at
Water for Life USA
to get the best deal.
To your good health!
Angie
Below is a video that shows some before and after footage of patient's colons who were given the ionized, alkaline Kangen water to drink. It's a bit, gross, of course, so don't watch it if you're squeamish.