Electronic Pest Control Reviews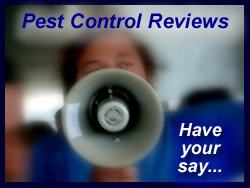 This is the place to add or find electronic pest control reviews.

It can be difficult to choose from the various pest control devices on the market. As with any product, all brands are NOT created equal.

One of our visitors recently purchased the ultrasonic pest repeller Ultimate AT from the Good Life. It really got me thinking and I just knew I had to add a page here for him and others to share their experiences with the ultrasonic pest repeller.

We have a large community of people suffering from both internal and external parasites. I know what to suggest for internal use and cleansing, but too many people are still being plagued by various small and even microscopic parasites in their environment.
My heart really goes out to each one of them as I read their stories of desperation, frustration, and suffering.

I want to do all I can to help, and if discovering whether or not this particular ultrasonic pest repeller or some other one brings relief to some of you, I will be thrilled to bits. It really is my sincere desire to be a help to YOU.

When I started reading up on the Pest Repeller Ultimate AT, I was pleasantly surprised to find that there are some pretty positive reviews from around the world in their testimonial section. 

Nevertheless, I'm a bit of a skeptic and always wonder if reviews such as those are fakes (though they didn't really appear to be). That's one of the reasons I was eager to add this electronic pest control reviews page here so I can get feedback from people I know and/or who have no ulterior motive for posting them.

So, if you've tried one of the many pest control devices on the market, we'd really like to hear how it worked for you. It could be an indoor or outdoor device, for large pests or small. It doesn't matter which brand you tried, please let us know the results.

Without further ado...
Share Your Pest Control Reviews
If you've tried a particular pest control device, spray, or treatment, let us know how it worked for you.

How long did you use the product? Did you feel like it did the job of getting rid of the pests in your home or yard? Was it good value for money?

Your comments may help someone else find a solution that works great for them! Be as detailed and descriptive as possible to be the most help.
Pest Control Reviews By Other Visitors
Click the links below to see the reviews submitted by other visitors to this page.

You can add your own opinions and comments to theirs if you'd like to help...

Ultimate AT Is Working!!
Review time: The electronic Ultimate AT is working! I'm the visitor/poster who originally suggested the electronic pest repellent "Ultimate AT" …

From Electronic Pest Control Reviews to Do Your Own Pest Control
Return to All About Parasites Homepage