Foods In Moderation
by Jessica
(Sydney, Canada)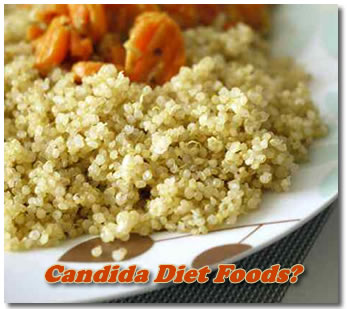 How much of the "foods in moderation" can you eat on a candida diet?
I have a question about the "foods in moderation" section on the Candida Diet Guidelines page.


The foods listed under eat in moderation, such as brown rice, quinoa and potatoes make up a large portion of my diet.
I am severely underweight due to a parasite infection. If I only have these foods once or twice a week vs every day I am scared I will lose more weight.
Do you have any advice to give someone battling parasites and a mild case of candida who is underweight and keeps losing?
I am taking antiparasitic drugs, herbs, P and B shakes, and probiotics.
Thanks in advance for your help,
Jessica
---
Hi Jessica,
I'm sorry to hear that you are going through such a difficult time.
My personal feeling regarding the "foods in moderation" concern is that as long as you are actively trying to cleanse and not relying on diet alone, you don't need to be as concerned about overdoing it with those moderation foods.
I would suggest, though, that you try to include more of the protein good fats (meats, avocados, eggs, olive oil, coconut oil) to try to slow down that weight loss.
I'm not a big fan of anti-parasitic drugs, but I'm glad to hear that you are also taking probiotics to help offset them and build up the friendly bacteria in your digestive tract.
You didn't mention which particular herbs you are taking, but herbs are a very beneficial tool in fighting parasites.
I haven't personally used the P & B Shakes (psyllium and bentonite clay), though I have read up on them as they've recently become popular. I prefer to simply use
Herbal Fiberblend
for cleansing. It contains both the soluble and insoluble fiber as well as 17 different cleansing herbs.
Are you absolutely confident that your weight loss and poor health is due to a parasite infection and not something else? I hope you've ruled out other serious options.
Having said that, a good internal cleanse in addition to a healthy diet and some nutritional support is an excellent course of action no matter what condition you are battling.
I sincerely hope that you will begin improving and feeling well again soon.
Blessings,
Angie from allaboutparasites.com