GarlicAIM

(formerly Bear Paw Garlic)
Better Than Your Average Garlic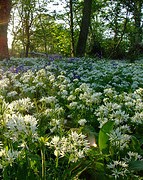 GarlicAIM supplements are more potent than the common garlic tablets you can purchase at most grocery, department, and health food stores.  It contains three different types of garlic to provide the most health benefit possible. 


Most garlic pills you find are from the cultivated garlic species Alluim sativum. Yes, there are beneficial effects from that common garlic tablet, but the wild cousin species is superior and more potent. Alpine wild garlic leaf has a greater amount of the active ingredients as well as additional benefits. This "cousin" species is called Allium ursinum.
GarlicAIM contains uncultivated wild garlic harvested from the Alpine region of Central Europe, particularly Switzerland. It does not have brood bulbs (bulbs with cloves), so cultivation is limited. 


The Association for the Protection and Research
on European Medicinal Plants named A. ursinum as the 1992 European medicinal plant of the year.


The green leaves are harvested once a year in the spring and processed to form the odorless garlic supplements that have become well known for their beneficial health properties.

GarlicAIM also includes fermented black garlic.  If you haven't tried fermented black garlic, I have to say, it's completely yummy.  I've enjoyed it in it's natural state, and was quite impressed.

Fermented garlic has an increased antioxidant level and natural probiotic properties that work well in helping to fight free radicals.  It's a wonderful additional to the former Bear Paw Garlic AIM supplement.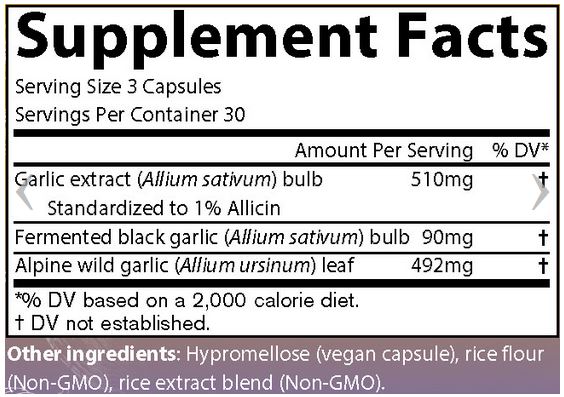 Health Benefits of Bear Paw Garlic
The benefits of A. ursinum over A. sativum has been documented over many decades. Even as far back as 1966 we find comparisons being made by the Allgemeine Homoopathische Zeitung 211. 


"...allium ursinum is superior to allium sativum, since the latter...has been overcultivated through several thousand years to a one-sided form."


They both come from the same family and have the same active substances and benefits. GarlicAIM has proven to have a higher quantity of the beneficial properties as well as some additional substances unique to the wild variety. It also has less odor upon digestion - a nice bonus.


Some of the healthy ingredients found in garlic are...


amino acids

selenium

zinc

Vitamin A

Vitamin B

Vitamin C

Allicin


If you are wondering what the practical benefits are from taking garlic pills, here's a list of some of the advantages gained.


antioxidant properties

antibacterial properties

antifungal properties

may assist in blood circulation

may improve immune function

muscle relaxant



As a result of these active ingredients and beneficial properties, many people have found garlic to really aid in healing digestive disorders like Candida, and boosting the immune system. If you'd like to try this powerful garlic supplement yourself, you can order online with ease, knowing that it comes with a full money back guarantee.

To your good health!
Return from GarlicAIM to Nutritional Health Supplements
Return to All About Parasites Homepage