Getting Rid of Pubic Lice
by Delma
(Chicago)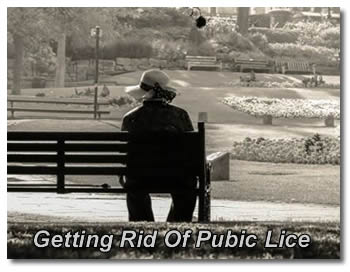 Getting Rid Of Pubic Lice
I am having a hard time getting rid of pubic lice.


Is there any natural remedy for pubic lice out there?
In distress... ...help!
~ Delma
---
Hi Delma,
What have you tried so far? I recommend topical essential oils to get rid of pubic lice. You can use tea tree oil, neem oil, oregano oil, garlic oil, or even lavender oil.
These essential oils are naturally anti-parasitic and can kill the parasites.
I would also recommend that you trim your pubic hair. It will make your task of getting rid of pubic lice a lot easier.
If I were you, this is what I'd do:
Trim the pubic hair.



Mix several drops of the essential oil of your choice with 1/8 cup of olive oil.



Thoroughly saturate the area with the oil mixture and leave on (covered) over night.



Cleanse the area in the morning and apply a little more essential oil to the area (diluted if your skin tends to be sensitive).



Repeat the process every 3 days for a couple of weeks to be sure you got all the eggs that may have hatched.
The reason for the oil is to suffocate the lice. They may be able to survive the various oils, depending on the strain, but they can't live if they can't breathe! :)
It takes several hours for them to fully suffocate, so that's why I recommend that you do it overnight.
Important:
Be sure to also wash your bedding and linens in hot water and run them through a hot dryer. You don't want to re-infest yourself.
Also, realize that you "caught" these from someone. If you are having intimate relations with someone, that's the most likely place. They should also be treated so that they don't keep passing them to you.
Let me know if this helps you get rid of the little critters for good!
~ Angie from allaboutparasites.com