A Human Parasite

Know Anyone Like That?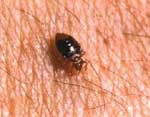 Have you ever met a human parasite? I've met a few! You know, those people who are what my mother used to refer to as "takers."


She'd say, "Some people are givers and some people are just takers." That's pretty much what a parasite is, a taker. They live off of someone else and give no positive benefit in return.

Of course, for the purpose of this page, I'm not really referring to the "human" version of parasites, but rather the microscopic organisms that make their way into or onto the human body and feast until we take action to get rid of them.


Parasites are, well... parasites! They will stay and take advantage of their free ride as long as parasitically possible. 

One of the more common human parasites that you might be familiar with is lice. Haven't we all had them at one time or another? Ugh!

Just thinking about them makes my head itch! Now, don't you start scratching, too. :-)

Other common external parasites you may know of are fleas, ticks, ringworm, and scabies. None of them are pleasant, but some are more uncomfortable than others.

Even these external skin parasites can become serious conditions if they are left unattended.

On the various pages of this site, we will deal with skin parasites, as well as internal and intestinal parasites. Almost all parasites can be dealt with using natural remedies and without resorting to prescription drugs that contain harmful side effects.

It is our desire to provide you with relevant information on the most effective methods of ridding yourself and your children of any suspected parasites so that you all may enjoy optimum health. 

If you are looking for something particular but are unable to find it, please feel free to let us know and we will do our best to assist you.

To your good health!
Have A Parasite Question or Comment?
If you have a parasite related question, feel free to ask it here.

***Please note: Give as much detail as possible in your submission. Saying, "There's a black bug in my skin. What is it?" is not good enough. How could anyone possibly answer that? :) Questions like that will be deleted.

If you want a reply, DON'T FORGET to leave your email address in the place provided on the next page (after you hit Submit) for notification when answers/comments are made. Please don't post your email address in the box with your question - that encourages spam to you.

Be as descriptive as you can and also mention what you have already tried so we'll know what other options might be worth suggesting.

Keep in mind that we are NOT doctors and can't diagnose you, but we'll do our best to help you find answers and make suggestions of natural remedies you may want to try.

Have you had any experiences with battling parasites that you'd like to share? Maybe you have a tried and true remedy that you'd like to tell us about. We'd love to hear from you, too.

Blessings,
Angie from allaboutparasites.com
Questions and Comments by Other Visitors
Click the links below to see the questions and contributions from other visitors to this page. Add your opinions and comments if you'd like to help...

Human Parasite Lives On The Outside Of The Body
What human parasite lives on the outside of the body, is small, has wings and bites leaving welts and bumps? Any information or help is appreciated. …
Parasite Appearance
I have noticed tiny black circles that look like hair on my kitchen counter and bathroom sink. Could they be parasites? It's certainly possible …
Return from Human Parasite to Parasite in Humans 
Return to All About Parasites Homepage