My Heart Cleansing Story
by Scott Prindle
(Tetonia, ID)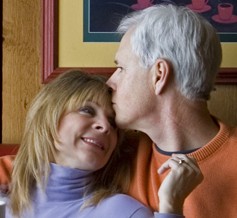 Scott & Laurie Prindle
Who am I?
Scott Prindle

Where am I from?
Tetonia, Idaho

What do I do?
Pastor and Businessman

What was going on with me before Christ?
Growing up I was always very shy and did not have a lot of self-confidence. By high school I began using alcohol and drugs to deal with my insecurities and fears.

By the time I got to college I was out of control and didn't even know it. I woke up in the hospital after crashing my mom's car into a telephone pole partying one night.

I became aware of God and began to read the Bible for the first time searching for meaning and purpose in my life. I was captivated by Jesus, but still depended on alcohol and drugs to deal with life.

How did I hear about Jesus and accept Him as my Savior?
Two years later I was watching Rex Humbard on TV and he kept saying "God loves you and has a plan for your life".

The testimonies I heard got to my heart and I prayed for God to forgive me and believed in my heart that God raised Jesus from the dead. I asked for a new life and got born again in the spring of 1979.

How has my life changed?
My life has meaning and purpose. Over time I was able to overcome my addictions as a new confidence grew in me. I was able to think less of myself and more of others.

I'm not near as shy as I used to be and I can even talk in front of groups of people! I am called to preach and have been a pastor for fifteen years. I'll be forever grateful to God for this new life in Christ.