Partner Thinks He Has Bugs
by Aussie Gal
(Moora, WA)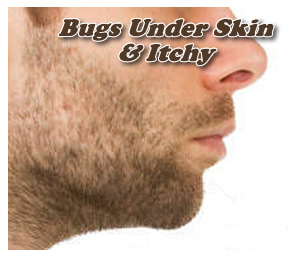 My partner thinks he has bugs under his skin!
My partner is a SHED erector. He lives in Moora, which is a country town 180km northeast of Perth in Western Australia.


He has short hair and a stubble and usually would not bother about his body. However, lately he says that his head is annoying him, and his skin is feeling very itchy.
I told him to have a bath to soak his body and when I emptied the water it looked like little worms on the bottom of the bath....YUKKKK!
What should he do?
Thanks,
Aussie Gal
---
Hi Aussie Gal,
Telling your partner to have a bath was good advice and a good place to start. It would be even better if he put some sea salt in the bath water as well as either some tea tree oil or clove oil.
It sounds like your partner may have a parasite infection (which also means that
you
can get it too as parasites are quite contagious).
This would explain both the itchy feeling and the feeling that he has bugs under his skin. It could be a fungal infection, but if you truly did see some type of little worms in the bottom of the bath, it's likely to be some other form of parasite.
Regardless, the best thing he can do (in my opinion) is to do an internal cleanse.
In cases like his, a topical treatment is often helpful to alleviate the symptoms but NOT get rid of the underlying cause. A good internal cleanse is really the only option.
I would suggest you both follow a cleansing routine using
Herbal Fiberblend
. I would say that it's the best natural parasite cleansing option available
here in Australia
.
Order at least 2 pots (which will give you free postage), so that you both can use at least one full pot each. That should take care of the problem and keep you from passing a parasite infection back and forth indefinitely.
Please let me know if I can be of any further help.
To your good health!
Angie from allaboutparasites.com