Renewed Balance ®

Wild Yam Extract Body Cream For Women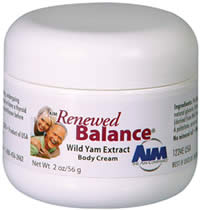 I've been using Renewed Balance body cream for a few years now and would LOVE to tell you all the natural benefits it provides for various "women's issues," but I can't! 


This page used to be full of helpful information on what this "type" of cream can do for us as women to enable us to enjoy better health and handle the inevitable symptoms that we as women face as part of the aging process for females. 


I'm sorry to say that, unfortunately, the FDA has reared its ugly head (no doubt at the bidding of some powerful and wealthy pharmaceutical companies ~ strictly my opinion, of course) and has pressured the AIM company into complying with their ridiculous and unreasonable demands. 


As a result, I've been asked to remove any testimonials regarding the use of this product based on my own personal experience of using it and the testimonies of the other ladies who have shared their experiences with us. 


I've also been asked to comply by removing any reference to the studies and findings of Dr. John Lee in regard to hormone balance and the use of natural progesterone cream in connection with the Renewed Balance body cream.


Finally, I was instructed to eliminate any "claims" (including "direct statements, statements in testimonials, and statements implied through pictures or indirect language...") that this product will relieve or help menopause, peri-menopause, PMS, or any symptoms of these conditions or that the product is a natural hormone replacement therapy (HRT). 


So, basically that leaves me with nothing to say other than to tell you that I have used the Renewed Balance cream and found it extremely beneficial for "secret women's business" and I've had a lot of friends who use the cream, too, and love it. 

I can also give you the list of ingredients:


Water, caprylic/capric triglycerides, glycerin, glyceryl stearate, stearic acid, progesterone, cetly alcohol, tocopherol, phenoxyethanol, caprylyl glycol, acrylates/acrylamide copolymer, soybean (Glycine soya) oil, disodium EDTA, rosemary (Rosmarinus afficinolis) leaf extract, sodium hydroxide, citric acid, lemongrass (Cymbopogon schoenanthus) oil, carrot (Doucus carota sativa) root extract, beta-carotene.

No mineral oil ~ Not tested on animals.

I intend to continue to use this product for as long as it is available to me, or another cream with similar properties if it becomes unavailable. If you have done your own research and can read between the lines, you might like to give this cream a try yourself. If you have any questions, just send me a note and I'll get back to you as soon as I can. 



If you are not from the US, let me know, and I will try to assist you in getting it sent to you. It IS available in Australia and several other countries, but there are particulars that must be met for certain regions.


To your good health!


Return from Renewed Balance to Health Woman 
Return to All About Parasites Homepage