Scabs On My Dog
by Amy
(UK)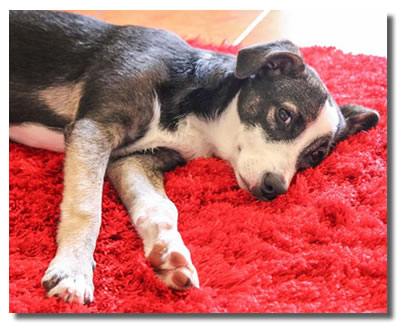 Hi, there are unusual scabs on my dog.


My dog keeps getting these long thin scabs on his skin, they pull off like string and are a crusty white and reddish colouring but look like segments.
From the outside it looks like a scratch as the fur is slightly raised. I thought they were scabs from scratches as I have a puppy who's always jumping on him etc.
Now it's been a while and he keeps getting them so I've gotten concerned that it could be something else.
When I pull them off it definitely doesn't look like something alive! Could it be something else apart from scabs on my dog?
Thanks,
Amy
---
Hi Amy,
Is your dog still having trouble with these scabs? Have you taken the dog to a vet to get any professional advice?
When you pull off the scabs, what does the skin look like beneath the scab-like strip? Is it, in fact, scratched, red, etc.?
It's possible that your dog has some type of skin parasite that is leaving these marks. Consider adding some organic unfiltered apple cider vinegar to his drinking water (1 Tbs. per bowl).
You can also put some of the apple cider vinegar in a spray bottle (slightly diluted if you prefer) and spray it on your dog's coat. Yes, the vinegar will smell for a bit, but the scent will fade.
ACV has been an effective natural remedy for some pet mites, fleas, etc.
Another option is to use some tea tree oil in your dog's bath water (or use the spray bottle and water again for this purpose).
I hope your dog's skin is improving. I'd be interested in hearing if you discover the cause of the problem.
Kindest regards,
Angie