Sent Home To Die
by Ray S.
(Somewhere in Colorado)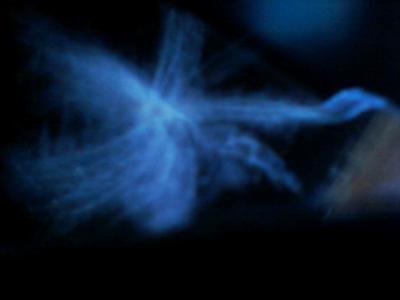 This is something I found in the room where I was first attacked. I feel it to be the source of the Morgellons, but of course, no one will comment.
My wife and I run a small hotel and, of course, that is where we came in contact with this disease.


At first it is like a bad horror film or a nightmare. You hope to wake every morning to find it was all a bad dream but no such luck.
When it first happens you're scared to death and you think at this rate I will be dead in a month. But that is what I would like to talk about here.
At first you are overwhelmed everything you think you know is proven to be wrong. Things that look like hairballs begin to move. Things are crawling above and below your skin.
The more people you tell about it, the crazier you sound. And only someone else with this stuff will ever understand or believe your story.
Then comes the worst part. The part that has driven people to kill themselves. The part where you give up and drink or do drugs or as I said end your life. This part sends a shiver down my spine every time I think of it.
What part am I talking about? The part where you go to the Doctor. The doctors in these cases are worse than the Morgellons itself, and for that ladies and gentlemen, you should be ashamed of yourselves.
Do you have any idea what it would be like to be driven to the edge of insanity only to have some smart a#@ dermatologist tell you it's all in your head?
They tried to convince my wife and I that we were both delusional, both having the same hallucinations.
When that did not work they sent letters to our insurance co. that we were drug users scam artists. One went as far as to send a letter to my house that said I may have the crabs. Needless to say my wife was overjoyed with that news.
I will close this line of thought with this. I will let you know the outcome of
the malpractice suite.
Now back to the Morgellons. There is one thing you need to keep in mind. It is not going to kill you. Once you get that in your head it becomes so much easier.
It is annoying, embarrassing, aggravating, and it down right makes you mad, but it is not going to kill you. But your life as you know it has changed forever.
We discovered things by our own experiments and failures. What I have found works best for me is twice a week I fill up a bathtub with hot water borax and sun detergent with bleach.
After 15 to 20 mins. of soaking you will see the monsters, as we call them, come to the surface of your skin, where you can easily scratch them off with your finger nail. They are stone dead.
But be prepared. These things are on a 6 day birth cycle. Every 6 days they have what we call birth night, and this is no fun. Because all the progress you thought you have made has just vanished.
This is when it is very important to remind yourself that they are not going to kill you.
You must shampoo your carpets 2 or 3 times a week as they lay there eggs in your carpet. The more you shampoo the less uninvited guests you have on birth night.
Do not however overdo the bleach baths. It will only make you more uncomfortable than you already are.
There are products on the market now but be warned people without hearts are cashing in on your suffering.
OK now hold your head up stick your chest out and get ready for the fight of your life. These little guys are tough but you can and you will survive. Very smart people are working round the clock on this problem and they will solve it, but until they do, you're on your own.
Do not expect any help from the real monsters here - YOUR DOCTOR.