Visible To The Naked Eye Parasites
by Vicki
(Lanexa, VA)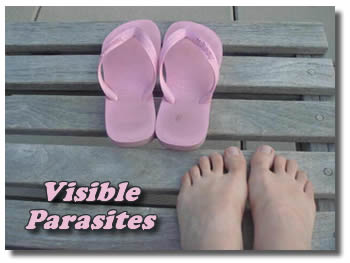 Visible To The Naked Eye Parasites On Heel?
Yesterday my daughter felt something like a bite on the heal of her foot.


When she examined her foot she found a dark, very thin, spirally-shaped squiggly 'thing' (about 1/8th-inch long) attached to her heal.
When I told my husband about it he said he remembered hearing something about a parasite that exits the body through the heal of the foot.
Any information on this?
Thanks!
Vicki
---
Hi Vicki,
There are parasites that can enter and exit the body through the feet, particularly hookworms, but that doesn't necessarily mean that is what your daughter experienced.
Was she in the house? In the yard? Can you see an exit wound, or a bite? It may even be possible that a small leech latched on to her foot if she was anywhere she might have exposed to leeches.
The truth is, parasites are far more common than people realize, even in the good old USA. If you are concerned, here are a couple of suggestions.
First of all, swab the feet with some anti-parasitic essential oil.
Neem oil seems to be fairly effective in killing a wide range of parasites, and won't do you any harm. It is a bit smelly, though. It's also often difficult to find.
I like to use clove oil because I personally love the smell, but also find it excellent as an anti-fungal and anti-parasitic option. You can pick some clove oil up at
Botanic Choice
at really affordable prices.
If your daughter develops other problems, either skin conditions or digestive disorders, the best thing that I recommend is a cleanse with
Herbal Fiberblend
.
Herbal Fiberblend is a combination of psyllium fiber and 17 different herbs that work together to thoroughly cleanse the digestive tract. Many of the herbs are anti-parasitic and anti-fungal. It has proven extremely helpful to many people over the years who were suffering from various parasitic infections.
Hope this helps,
Angie from allaboutparasites.com