What Could Be Biting Me At Night?
by Rose
(NC)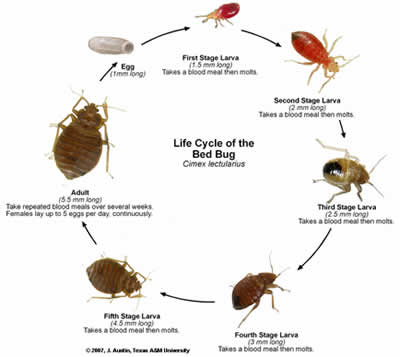 What Bed Bugs Look Like
What could be biting me at night?


I am trying to figure out what kind of parasite is biting me. I don't think it is a flea.
I wonder if there is anything else besides the flea and dust mites that would "feast on me in bed".
I notice the itching starts as soon as I lie down in bed. I change the sheets every other day. I notice when I bathe that some kind of little bug is in the water...looks oval shaped and tiny.
---
Hi Rose,
Could it be a bedbug? They fit your description and they really do get you while you're in bed.
If you can capture one of the critters (like the one in your bath), you can send it off to the
Harvard School of Public Health
using the form provided. They can tell you whether or not it's a bed bug before you start treating your home for something that you may or may not have.
Getting rid of bedbugs can be a real challenge. There are a number of different treatments for bedbugs available ranging from pesticides to steam treatment, etc.
The first step is to determine the answer to "What could be biting me at night?" and go from there.
Good luck!
Angie