Worm In My Eyebrows
by Bobbi
(Hudson, FL, USA)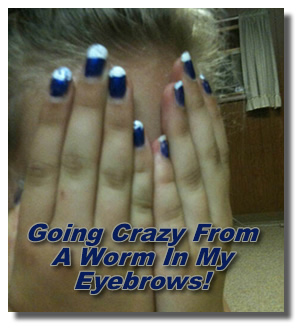 Going Crazy For Over A Year!
I have what seems like a worm in my eyebrows.


It is slimy feeling and hooks itself to my skin by means of little clips and a series of what I only can describe as straight pins which I get stuck in my fingers.
These worms are very tenacious critters and when I get rid of the worms in my brow another comes right there immediately.
My skin has blobs of slime and is so slippery and oily. I have tried alcohol, rubbing it into my skin and also pure apple cider vinegar, but they reappear almost immediately.
They have a potty smell about them. IT IS AWFUL!
I have them in my nose, eyes, and some times my mouth. I have had these for so long now I am going insane with them.
I also have round rubbery blobs that come from under my skin. There are hundreds of them at a time and slide down my face and neck, into my ears and mouth.
I do not sleep at night anymore, spending hours upon hours trying to expel them from my face.
Lately I notice the worms are extending into my scalp.
I AM HORRIFIED AND SCARED I WILL NEVER GET RID OF THEDM AND SPEND THE REST OF MY LIFE IN THE HOUSE.
PLEASE HELP IF YOU CAN. I WILL FOREVER BE IN YOUR DEBT IF YOU CAN HELP ME.
Thank you ever so much.
Bobbi
---
Hi Bobbi,
I hope you come back and look for your answer because you didn't leave a notification email.
I'm terribly sorry to hear that you have been suffering for so long with this worm in your eyebrows concern. If you've been battling it
for over a year, there's little doubt that it has grown into a serious condition that needs aggressive and prolonged action.
I can't tell you what it is you're dealing with, but I can tell you what I would do if I were in your shoes. I've given this suggestion to various people throughout the site, so I won't go into all the detailed explanations again here on this page (unless you ask some follow-up questions).
Instead, I'll just cut to the chase and tell you what I believe is best to use to get rid of the problem based on your description:
That may seem like a lot, but you said you've been dealing with these worms in your eyebrows and the slimy, oily blobs on your skin for over a year.
You need to be really aggressive in tackling the problem if you want the quickest and best chance of getting yourself sorted out.
Since you're in Florida, use this
US Order Form
and get the wholesale prices.
If you haven't already tried sea salt in your bathwater, you may want to do so. The sea salt can benefit and improve your skin externally while you are doing all the good stuff for your insides.
Hoping to hear you found your way back here, followed the above protocol, and are good as new, sooner rather than later.
To your good health,
Angie from allaboutparasites.com