Itching under the skin...
by Linda
(Augusta, GA)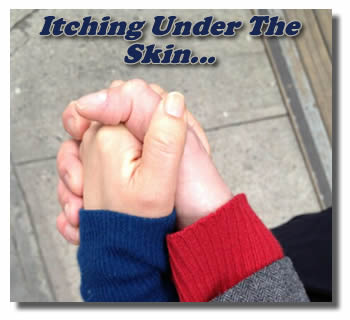 My thumb itches really bad at times, but it's inside where I can't scratch, please help.


The itching is usually on my thumb but has also been on my other fingers.
It just starts itching out of the blue, but I can't scratch it because it is on the inside of my thumb, not the outside.
It is driving me berserk!
-Linda
---
Hi Linda,
I can certainly understand why that predicament would drive you crazy. I've had some seriously itchy conditions before and they can be almost unbearable.
This itching under the skin or inside the skin that you are describing is a bit different. You aren't seeing a rash or any type of lesions or dry skin?
Under the skin itching can be caused by a variety of things.
If you've recently been on medication, it could be a side effect.

You may have an allergy to one or more chemicals in the products that you use or ingest.

Itching can even be one of the signs of serious disease, but it isn't usually localized in that case, but all over the body.

Damaged nerves can also cause that extreme itching sensation inside your skin.
So, as you can see, the possibilities are quite vast - not what you want to hear, I'm sure.
Since you've asked your question here, I'm guessing you suspect that you may have a parasite of some sort. That is quite possible, of course, since we usually have a number of parasites inside us at any given time.
Typically, when you have a skin parasite, you will see some sort of physical evidence in the form of red bumps, trails, or other external signs.
However, some internal parasites are not at all visible. Our bodies are amazing things, and 10 different people can react to something in 10 different ways.
More and more doctors are realizing that so many health issues begin in the digestive tract. If your digestive system is
not healthy and strong your immune system is compromised making way for any number of problems to occur.
If your body can't process the toxins fast enough, they build up in the organs and have to be dealt with in some way. The liver does its job as best it can, but if it is overloaded the toxins have to be released somewhere else. Quite often, the organ of choice is the skin.
For long term relief and to get at the root of the problem, I would highly recommend that you do a thorough
colon cleanse
with
Herbal Fiberblend
. HFB is a unique blend of fiber and 17 herbs that are anti-parasitic and anti-fungal. It really helps cleanse your digestive tract properly.
On top of that, I would also recommend you boost your immune system with
Florafood
and the
Garden Trio
. The Florafood is a blend of probiotics that will help build up your friendly bacteria which is vital, and the Garden Trio is a set of three highly nutritious whole food powdered supplements that will provide your body with many of the vitamins and minerals that may be lacking. One of them in particular,
Redibeets
, is very effective in cleansing the liver.
Apart from the Neem oil, all of the recommended supplements can be purchased
here.
I know this is all a lot to consider. From my perspective, I would rather heed the warning signs that something is just not right internally and do something about it naturally, than to wait until the problem grows and spreads to a serious health issue.
I certainly can't guarantee that this course of action will clear up your itching under the skin, but I have a hunch it will. The good thing is that all of the recommended supplements are great for your health regardless, so they can only benefit you.
Please keep me posted on what course of action you take and your future progress.
Blessings,
Angie from allaboutparasites.com