Just Carrots


Whole Food Supplement For Healthy Living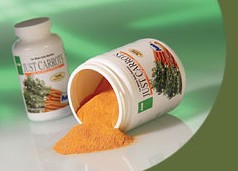 Just Carrots® is a whole food supplement that provides the goodness and nutrition of freshly juiced carrots to your daily diet, and then some.


The benefits of a juicing program have been recognized for many years all over the world.


Some of the most well known names in this field of research are doctors Norman Walker and Bernard Jensen. They have promoted fresh fruit and vegetable juices as an essential part of good nutrition.


So what benefits do you actually receive from carrots?





Some of the nutrients found in carrots are beta carotene, alpha carotene, B vitamins, vitamin C, calcium, potassium, folate.


They are also rich in enzymes that aid in digestion and absorption of food as well as providing energy at the cellular level.



Just Carrots® As A Whole Food Supplement
Juicing raw carrots has been considered the best way to get the most nutrients and enzymes from carrots for many years. Carrot juice is definitely beneficial, but many people don't want to be bothered with the continual time and effort it takes to juice raw carrots fresh each day.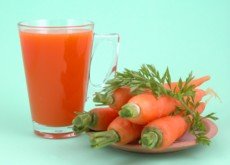 The good news is that newer technology has made it possible for freshly juiced carrots to be dried quickly at low temperatures while preserving all the nutritious benefits of the raw juice.


Just Carrots® is quality tested and is guaranteed to be free of pesticides and herbicides. It is 100% residue-free.


With this powdered carrot supplement, all you have to do is mix 2 tbsp. with water or juice once a day, although you can obtain the best results by simply placing the powdered mixture right under your tongue.


You can order JustCarrots® online.


Practical Benefits of Carrot Juice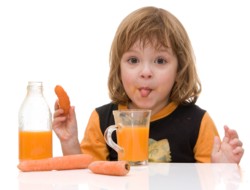 As a little girl I can remember my mother always telling me that carrots were good for my eyes. I always loved cooked carrots as one of my very favorite vegetables. 


Of course, as an adult I learned that, once again, mom was right. Carrots really are good for the eyes. In fact, carrot juice adds a nutritional benefit to both the eyes and the skin. 


Not only that, the beta carotene is also credited with aiding in detoxifying the body and boosting the immune system. There are plenty of good reasons to add a daily regime of carrot juice to your diet. Just Carrots® makes it possible for you do this in the easiest and most convenient manner without losing out on the nutrition.


If you'd like to give this whole food supplement a try, I highly recommend it along with the other two core juice powders, BarleyLife® and Redibeets®. This marvelous group of three whole food supplement nutritional drinks is also known as the Garden Trio®. It is easy to order online if you'd like to try them yourself.


To your good health!

Have A Question or Testimonial About Whole Food Supplements?
If you have any questions about whole food supplements feel free to ask them here.

You might have an experience of your own to share that will encourage and help others find relief and better health. Please take a couple of minutes to tell us about it.
Questions and Comments by Other Visitors
Click the links below to see the questions and contributions from other visitors to this page.

Add your opinions and comments if you'd like to help...

Pregnancy and Supplements?
Hello. I have a question about pregnancy and supplements. I am 2 months pregnant and I would like to take the Just carrots, Barley life, Prepzymes, …
Return from Just Carrots to Whole Food Supplements
Return to All About Parasites Homepage