Para 90

Parasite Cleansing Supplement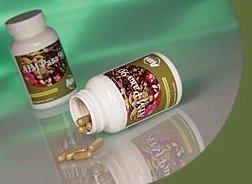 The Para 90 parasite cleansing supplement is a wonderful proprietary blend of anti-parasitic and anti-fungal herbs that are very effective in eliminating a wide range of parasites in humans.


For over 10 years this natural parasite cleanser has been used with great success by AIM members.

Order Para90 and start cleansing parasites now!


Many people think that we don't suffer from parasites if we don't live in third world countries. That is the farthest thing from the truth. The United States Center for Disease Control randomly tested people across the country and determined that 1 in 6 people did indeed have some type of parasite.


While that may surprise you, it really shouldn't when you consider how easily you can pick up a parasite in humans.


The four basic and most common methods of contracting a parasite are:

Through your food or water
Through a mosquito or another transmitting agent
Through sexual contact
Through the nose and skin


There are conventional parasite treatments in the form of drugs that come with their own share of side effects. Particular drugs target particular parasites.


Traditional natural parasite remedies in the form of herbs have been used for years and are still effective today. 


How Does Para90 Work?
AIM's Para 90 is a combination of 14 different herbs as well as Bromelain, which is a digestive enzyme. These herbs work together to cleanse the body of possible parasites that may be affecting your health.



Ingredients:

Black Walnut Hull


Wormseed


Pumkin Seed

This proprietary blend comes in vegetarian capsules and has been approved by herbalists. On top of being an effective natural antiparasitic, the benefits also include intestinal cleansing and improving and maintaining digestive health.


Order Para 90 to begin a parasite cleansing program!


For those of you in Australia, you won't find Para90 on the order form. You'll need to contact me for specific information on how you can get it. 


A good parasite cleansing program is important for optimum long term digestive health. A cleanse at least once a year is highly recommended.


To your good health!


Have You Tried Para 90?
If you've tried the Para 90 parasite cleansing supplement we'd love for you to share your experiences here so that others can hear how you have been helped. It's simple and easy to fill out the form below.

The more specific you are the better in sharing your story so that others can be helped.

Also, feel free to use the form to ask questions you may have about Para90 or a parasite cleansing program.
What Other Visitors Have Said About Para 90...
Click the links below to see contributions from other visitors who have used Para 90 themselves...


Return from Para 90 to Nutritional Health Supplements 
Return to All About Parasites Homepage