Parasite Under My Skin On My Arms
by Jane G
(Southampton, NY, USA)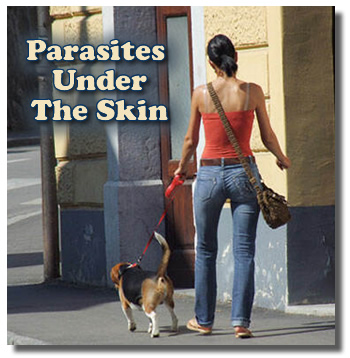 Dealing With Parasites Under The Skin
I think I have a parasite under my skin on my arms. It's like a scab that doesn't go away!


I have them 3 places on my arms and there are 2 side by side. My body is usually very good at healing itself but this is a mystery because they don't go away!
If I pick at a cut with a scab, lets say in the shower, it then heals and goes away. Not these! It's very annoying and I am beginning to worry.
Thanks for any hints on how to get rid of them.
-Jane G
---
Hi Jane,
It's hard to say if you have a skin parasite under your skin or not. Is it itching or burning or spreading?
Something simple you can try, if you have it on hand, is Organic Apple Cider Vinegar. Just put it on the scabs a few times per day. When I say, organic, I mean apple cider vinegar that hasn't been heat treated and filtered. It still has the "mother" in it.
Bragg's makes a good brand, but there are others. You can usually find it in a local health food store or even sometimes in the health section of your local grocers or Walmart.
If you think it may be something internally that you picked up (parasite, bacteria, etc.), a herbal cleanse should put you right.
I like to do an annual cleanse myself every year, just to keep my system healthy (as you say yours usually is). I prefer
Herbal Fiberblend
for a 3 month cleanse. It's pretty easy to do (though not tasty) and is VERY effective.
If it's a sure sign of parasites, then definitely try
Para 90
. Fortunately it is readily available in the US. You can get it online at wholesale prices
here
if you decide to go that route.
It may not be anything serious, but for overall good health and to rid your body of any possible parasites, skin parasites or intestinal parasites, etc, a proper
colon cleanse
is always a good idea.
Hope that helps. Do let me know what you decide to do and how it works for you. Someone else may come along with a similar problem and will be encouraged or helped by your results.
To your good health!
Angie from allaboutparasites.com