Something Living Under My Skin
by Valarie
(South Africa)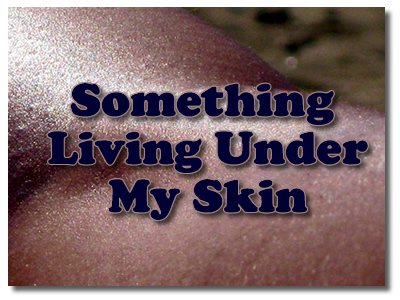 Something Living Under My Skin - I don't know what it is!
I have something living under my skin.


It only appears every three to four months. ts starts out like a little blister and itching (the itch is something that can't be explained) and finally a hole is left on my skin.
My skin gets tingly and my glands swell. It is always in the same area. It has no uniformity and takes about two weeks to vanish, until three to four months time when it is back.
I have gone to doctors and have been treated for worms, but it still persists in coming back.
Please help me,
Valarie
---
Hi Valarie,
You said you have something living under your skin, but it may not actually be a parasite. It could be, of course, but that isn't the only possibility.
It sounds more to me like you have some toxins in your system that your body fights off for a while but then gets overloaded and has to release it through the skin (hence the itchy blistery rash).
This is not uncommon. When the major filtering organs can't keep up with the natural detox process, it sends the excess to the skin to get rid of.
Because you keep getting the blisters and itchy rash in the same place may simply mean that it is one of your body's weak areas.
Years ago, I used to get a very similar sounding itchy, blistery rash on a couple of my fingers once or twice per year.
Whether the cause is some type of parasite living under your skin or too much
toxins in your body, the best natural treatment I would suggest is the same:
The Herbal Fiberblend is a good internal cleanser that tackles parasites and helps rid the body of bacteria, toxins, etc., and flush it out of the system.
The BarleyLife is a green whole food supplement that is rich in nutrition and builds up the immune system.
The Redibeets is also a whole food supplement, so it is nutritious, but has the added benefit of being just about the best natural liver cleanser, which will help take the load off of your organs and hopefully break this repetitive cycle you're dealing with.
Fortunately, these are all available to you right there in South Africa. I can process an order for you through our SA office if you use
this order form
, or you can call the office directly and speak to one of the ladies there who can help you.
The phone number of the South Africa AIM office is (011) 675-0477. You will need to give them my name and member ID number in order to get the wholesale (cheapest) prices. It's Angie Berg #674838. Do let me know if you have any trouble at all.
I hope you find that this does the job for you (which I believe it will), but you may find it makes you feel better and increases your energy levels, too. :)
Keep me posted!
Blessings,
Angie from allaboutparasites.com