A Stomach Parasite
 
a.k.a. The Tummy Bug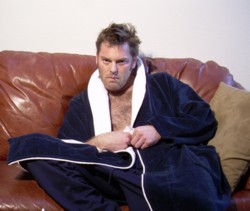 Wondering if you have a stomach parasite? People have them more often than they realize.


For most of us, a tummy bug passes in a few days and we don't have any lasting results.


The severity and duration of our particular stomach bug depends on exactly what causes our stomach discomfort. 
Something as simple as eating food that is a bit "off" or drinking some contaminated water can really make us feel as though we'd rather be dead!
Thankfully, the feeling doesn't last and our body is able to get rid of whatever toxins we've ingested, returning us to normal after a day or two of utter misery.
Not all stomach upsets are caused by stomach parasites. Sometimes, we get stomach aches from emotional upsets, too much alcohol, or a sensitivity to a particular type of food or drink. Many people even have continual stomach problems from consuming too much caffeine and never even think of that being the culprit.


Symptoms of Stomach Flu (Gastroenteritis)
The most common symptoms of stomach upset from stomach parasites, bad food, or other tummy problems are as follows:


sudden abdominal pain
diarrhea
fever
chills
vomiting


You may not have all of these symptoms, and they might vary in degree throughout the course of your temporary inflammation of the intestinal tract. Usually, though, they will only last for a day or two if it is indeed what we commonly refer to as the "24 Hour Bug."


Simple Remedies To Treat A Tummy Bug (Gastroenteritis)
If you do find yourself suffering from these flu bug symptoms, here are some simple suggestions that you can try to get a bit of relief. I know when I get a nasty case of the flu, I just want something to help me get through it and get rid of the stomach parasite as quickly as possible.


Don't Eat - If you're like me, this is a no-brainer. I can't bear to eat because I do hate throwing up. This isn't a hard and fast rule, but it is probably best if you wait until your symptoms calm down a little.


Commercial Herbal Cleanse - You may want to take a blend of herbs that will help get the cause of your symptoms moving out of your system quickly. I recommend Herbal Fiberblend® for this. You just need a teaspoon mixed in a little water or juice a couple of times a day to get rid of your stomach parasite.


Yogurt - If you feel you can bear to eat something, the best thing to go for is natural yogurt. A generous amount of natural yogurt will help sooth your stomach and give you some additional good bacteria to help fight off the "unfriendlies."


Papaya Enzyme - Chewable papaya enzymes are very helpful in settling your stomach and providing more enzymes to the stomach to help fight whatever is giving you grief. I actually love the taste of these tablets. Chew 5-10 of them and sip a cup of hot water or some nice strong peppermint tea.


Bromelain - Usually, I get pineapple Bromelain, also in the chewable form. For this remedy, take 500mg. in tablet or capsule form on an empty stomach, 3-5 times a day. You will find Bromelain for very reasonable prices at Puritan's Pride.


Acidophilus - Instead of eating yogurt (or in addition to it), try taking some probiotics like acidophilus to help build up your immune system's good bacteria. I recommend Flora Food™ as a quality source to keep on hand. I use probiotics almost daily to help keep my immune strong and fighting fit.


Herbal Mixture - If you have the items on hand, you can make your own little herbal mixture by combining 1/4 tsp. turmeric powder, 1/4 tsp. ginger root powder, and 1/4 tsp. of fennel powder. Mix those three together with a couple of tablespoons of good unprocessed honey.


Of course, I don't recommend you try all of those remedies at once! :-) You may make yourself feel worse. Be sensible and try them one at a time or perhaps even a couple that seem to go hand in hand. Use your good judgment and you'll probably discover what works best for you. Mark it down somewhere so the next time you are feeling miserable as a result of a stomach parasite, you'll know just what worked before.
---
Caffeine Sensitivities
If you have regular stomach problems or irritable bowel, consider whether or not you could possibly have a sensitivity to caffeine. You may not even pay attention to how much caffeine you actually consume in a day. 


Don't forget, not only is there caffeine in coffee, but also in tea (even green tea), soft drinks (mostly colas), and the ever popular energy drinks. And let's not leave out my personal favorite, chocolate!


Here's some common symptoms of caffeine sensitivity:
loose stools in the morning
jittery stomach
furry tongue
colicky pain in the tummy
gas
irritable bowel symptoms
Want to find out if your recurring stomach problems may be caused by caffeine? Do a simple two week caffeine test! Gradually lower your caffeine intake over the course of the first week (all forms, of course). During week two, don't have any caffeine at all! You may suffer withdrawal, usually a headache. Are your stomach symptoms gone? 


If you discover you are sensitive to caffeine, but can't bear to give up your morning cuppa, try holding off until later in the morning after you've eaten something, rather than drinking it on an empty stomach.


You might even want to give some of the caffeine free herbal teas a try. They are quite nice once you get accustomed to them.


If your symptoms recur, consider switching over to a coffee substitute. There are some really good ones on the market these days. My husband enjoys Ecco. I have to say, it took him a little while to get used to it, but almost any habit can be changed in a month. Give it a try. You'll be much happier not having all that tummy pain and discomfort, and your body will thank you.


If you have any stories about or remedies for a stomach parasite, please share them here so we can all benefit.
To your good health!
Have A Parasite Question or Comment?
If you have a parasite related question, feel free to ask it here.

***Please note: Give as much detail as possible in your submission. Saying, "There's a black bug in my skin. What is it?" is not good enough. How could anyone possibly answer that? :) Questions like that will be deleted.

If you want a reply, DON'T FORGET to leave your email address in the place provided on the next page (after you hit Submit) for notification when answers/comments are made. Please don't post your email address in the box with your question - that encourages spam to you.

Be as descriptive as you can and also mention what you have already tried so we'll know what other options might be worth suggesting.

Keep in mind that we are NOT doctors and can't diagnose you, but we'll do our best to help you find answers and make suggestions of natural remedies you may want to try.

Have you had any experiences with battling parasites that you'd like to share? Maybe you have a tried and true remedy that you'd like to tell us about. We'd love to hear from you, too.

Blessings,
Angie from allaboutparasites.com
Questions and Comments by Other Visitors
Click the links below to see the questions and contributions from other visitors to this page. Add your opinions and comments if you'd like to help...

Return from Stomach Parasite to Parasite in Humans
Return to All About Parasites Homepage