Swine Flu Info
H1N1 Map, Updates, Personal Opinions and Stories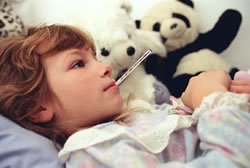 I'd like to provide you with the latest swine flu info updates to help you stay informed.


That's going to be a challenge since we're in such a global society these days. 


I'll try to focus on the latest information about the swine flu from the CDC, the World Health Organization, as well as the local TV news updates as the year progresses. 
I've included an H1N1 map below, although I can't guarantee its accuracy since I am sure it will be difficult to keep the information up-to-date. 


I would also like to includeyour personal opinions and information on the latest swine flu pandemic in your area. Please use the Swine Flu Form to share your experiences or add your own swine flu info updates for your region.

According to the US Centers for Disease Control (CDC), as of mid August 2009, there have been 1,799 deaths as a result of the swine flu epidemic. Although those numbers pale in comparison to the number of deaths each year from regular seasonal flu (about 30,000+ in the US alone), this is still of some concern.


Even one death is too many when it involves someone you know or love. 

There are always a variety of flu virus types floating around. The World Health Organization is estimating that currently about 71% of all influenza viruses detected globally are the new H1N1 flu. So, that tells us that it is the strain of virus that is of the greatest concern this year.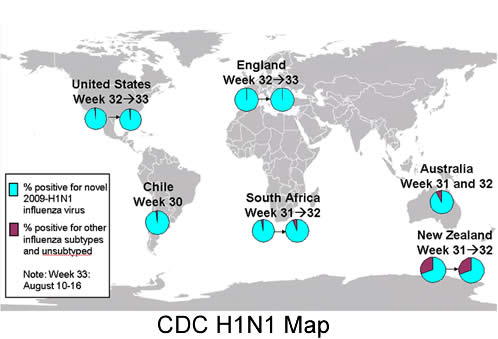 At this point, the Swine Flu Info available tells us that almost all continents have been infected to some degree. That doesn't mean every country is affected yet, but like most flu viruses, the novel H1N1 is likely to continue spreading. 


In places like Australia and New Zealand, the h1n1 virus symptoms are taking a larger toll at this time. This may be because countries in the southern hemisphere are in their winter season, the natural time the seasonal flu bugs makes their rounds.


Should You Panic? What Action Should You Take?


Personally, I think panic should be the last option you should consider. Preparation and proper swine flu precautions are much more practical steps to take. 


Be aware of your own quality of health. If you or someone in your family is already in a weakened condition from an underlying illness, you fall into the category of those more vulnerable to the swine flu epidemic. The h1n1 virus symptoms would be more debilitating to someone who is already less than healthy, much like the traditional seasonal influenza viruses.


You CAN do something to strengthen your immune system and give yourself additional support. The more support your body has, the less likely you are to succumb to passing viruses, etc. 


Even if you are in fairly good health. Don't let your guard down. Consider adding some additional nutritional supplements to your daily routine to strengthen and improve your immune system further. 
Think smart! - - Act smart!


To your good health!
Let's Talk About The Swine Flu!
If you or someone you love has been affected by the swine flu, please tell your story here.

If you have updates regarding the spread of H1N1 in your area, or other comments about the influenza, we'd like to hear them.

You can ask questions or share with others what you have found to work or not work in your quest for prevention, precautions or even a home remedy.

It's simple and easy to fill out the form below.

The more specific you are the better in sharing your story so that you can be helped or others can be helped by your submission.


Return from Swine Flu Info to Swine Flu Epidemic
Return to All About Parasites Homepage