What Parasite Causes These Symptoms?
by Vanessa
(Luray VA)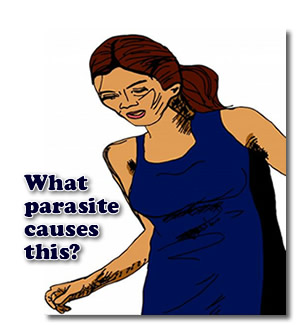 Can you tell me what parasite causes these symptoms?


I feel moving through my body from my feet to my head, and I feel them when I press or pinch the skin.
I feel a burning and itching round spot. At the end of the burning I see wiggle lines on my skin and a round bump under the skin.
Thanks,
Vanessa
---
Hi Vanessa,
I can't say for sure because your symptoms are varied. It sounds like it could be scabies or even a bad yeast infection.
It's really hard for someone to guess over the internet. If you are unable to see a good doctor, perhaps you might like to try an internal cleanse with
Herbal Fiberblend
and
Para 90
.
These supplements help to eliminate a wide range of parasites, so they are well worth trying in your situation.
Probiotics are helpful, too, along with a good nutritious diet that is low in added sugars. These will help to improve your immune system so your body can fight off whatever parasite or other issue you are dealing with.
To your good health!
Angie from allaboutparasites.com