White Worm Looking Things
by Mikayla
(Florida)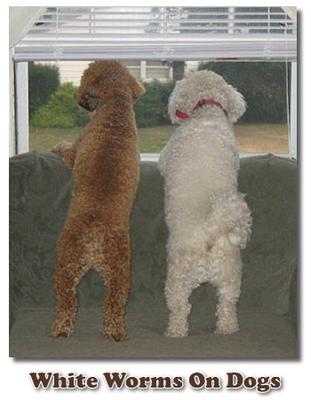 White Worms Looking Things On Our Dogs
What could white worm looking things be?


My mama saw these white worm looking things as she describes on our two dogs one day.
She shaved the dogs to where there was barely fur left on them. But they still had them.
My mama and I spent all day cleaning the house. washing the dogs blankets, vacuuming the floors and the couches. But they still had them.
Then one day my mama said she had them. I have never seen any on the dogs or on my mama. But she did take something off the dog one day and it went from squishy to rock hard in a matter of minutes.
The dogs still have them and they don't seem to be affected by it but my mama has them coming out of her skin.
I still don't see them but she has sores all over her body and I am extremely worried about her.
I'm 17 so my mama is my number one priority and I am extremely worried about what these will do to her and if they will end up harming her in a worse way than has already happened...
...please help me if you can. Thank you.
~ Mikayla
---
Hi Mikayla,
Sorry to hear you and your mama are having such a tough time with these white worm looking things. It's really good that you are trying to be helpful and supportive of your mama.
Have you tried taking the dogs to the vet to see
if they can identify these worms? If you knew for sure what they were, it would be helpful in finding the best treatment to get rid of them.
Here are a few things you and your mama can try:
Put some organic apple cider vinegar in a spray bottle and spray the dogs with it each day. You can also add a couple of tablespoons to their drinking water.


If these are typical worms that dogs get (check to see if there are any signs of worms in their bowel movement), you should get a de-wormer treatment for them.


Your mama can put a cup or so of the organic apple cider vinegar in her bath water and have a soak, or she can just apply it to her skin directly if she prefers. Be sure you are using organic apple cider vinegar and not the filtered kind (Bragg's is a good brand).


If your mama can afford it, encourage her to purchase these nutritional supplements to help cleanse parasites from her body and boost her immune system.


There are other nutritional supplements and essential oils that may be beneficial, but I don't want to overwhelm you or confuse you. Those are the ones I think would be most helpful.
Let me know if you are able to see a vet or doctor and find out more specifically what you are dealing with in these white worm looking things.
To your good health!
Angie from allaboutparasites.com