Worm-Like Bug
by Marie
(Spartanburg, SC, USA)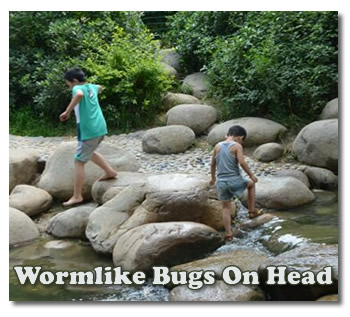 Wormlike Bugs In Scalp?
I just found a worm-like bug burrowing into my sons scalp. He just come home from camping, and had been swimming as well as wooded outdoor activities.


I found the bug while looking for ticks. I came upon a stick like "TAIL." I actually thought it was a splinter.
As I pulled it out, out came an oval bulb of substance. It had a white body. It was long like a piece of long grain rice, but not quite as big, but kinda flat. It did not have any feet or even a face, but was definitely digesting blood.
I am quite concerned!
Can anyone help?
Thanks,
Marie
---
Hi Marie,
I can imagine how distressed and dismayed you would have been to find such an unusual creature on your sons head!
I don't know what this worm-like bug would be. It sounds like it could have been a very small leech. Did you find any more or just the one?
Hopefully it was a one-off critter and your son won't have any further trouble.
Do you have any hydrogen peroxide? It would be good to clean the area where you pulled it out with the peroxide.
You could also apply some tea tree oil or eucalyptus oil if you have some. They are naturally anti-parasitic and might serve to get rid of any lingering critters.
I would just keep an eye on the situation and see if your son starts to have any abnormal itching, bowel changes, etc. Those can be signs of internal parasites, which are easily picked up while swimming in lakes, ponds, or streams.
In those cases, I'd recommend a
natural parasite cleanse
and an increase in
probiotics
.
Hope it all turns out to be of no further concern to you.
Blessings,
Angie from allaboutparasites.com