Worms Crawling Inside
by Shannon
(Muskegon, Mi. USA)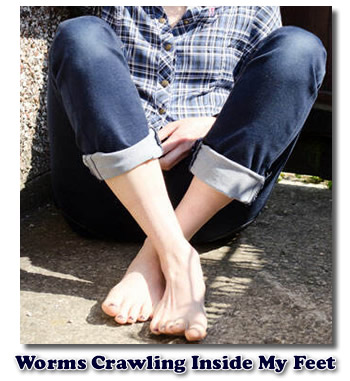 Feels Like Worms Crawling Inside My Feet And Legs
What is in my body? I feel as if I have worms crawling inside my feet. That feeling has now moved into my legs.


I am a little bit freaked out. What could it be and how do I kill, kill, kill these things?
The feeling is not constant. It does kind of come and go. I don't really know of another way to say it.
Please help!
~ Shannon
---
Hi Shannon,
Have you been to the doctor to rule out some form or nerve damage, etc.? That's a possibility. Hormone imbalance can also cause similar symptoms.
I assume that you are thinking it may be parasites since you've asked your question here and you feel you have worms crawling inside you.
Parasites are also a possibility, of course. Even a yeast infection can give you those sensations. Do you have any other symptoms of parasites, like digestive issues, constipation, etc.?
Generally speaking, a good herbal cleanse is a good first step in eliminating internal parasites. Specifically, I use
Herbal Fiberblend
and
Para 90
.
When you are dealing with parasites and most other health issues, it's also important to replenish the good bacteria in your body to help strengthen your immune system.
Florafood
is a good choice.
To your good health!
Angie from allaboutparasites.com