Worms Under The Skin
by Gaela
(Missouri)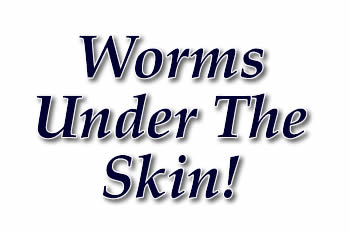 How To Treat Worms Under The Skin
My son and his family have worms under the skin!


They can see them. The worms work their way through the skin at times.
What is this and what can we do to treat it?
Thanks for your help,
Gaela
---
Hi Gaela,
Has your son considered whether or not he might be dealing with scabies? Scabies is a mite that usually travel just beneath the surface of the skin and leave "tracks" that itch and cause pain.
There are different options for topical treatment of scabies. You can get a prescription medication, but chemicals do seem to be becoming less and less effective (and they also have toxic side effects).
If you don't want to go the prescription medication route, or you've tried it and it hasn't worked, many people find that using anti-parasitic essential oils topically work very well.
Some options would be Tea Tree oil, Eucalyptus oil, Oregano oil, Neem oil, Clove oil, etc. There are quite a few different essential oils that are antiparasitic and would probably work. You can apply the oils directly to the affected areas, diluting it a bit with a carrier oil (like olive oil, coconut oil, or almond oil), or you can put some of the oils in your bath water and soak.
I would also suggest they take some internal cleansing and re-building supplements like
Herbal Fiberblend
,
Para 90
and
Florafood
as the basics.
If they can afford it, adding a green wholefood like
Barley Life
or
Leaf Greens
as well as
AIMega
(essential fatty acids) will help them to start feeling better sooner as these supplements will help to build up their immune system and promote the healing and repair of their damaged skin.
I hope this helps in finding a solution that works for your son and his family. Keep in mind that I'm only "guessing" at scabies based on your very brief description. The truth is that it could be a different parasite entirely.
Having said that, the suggestions I made for treatment of scabies would apply to almost any type of worms under the skin so give them a try.
Blessings,
Angie from allaboutparasites.com