Cures For Constipation Recipes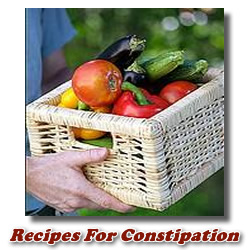 These recipes for natural cures for constipation are a great way to naturally ease the discomfort of being constipated.

Try a few to discover the one that works for you.


There are a lot of different causes of constipation.  Sometimes it is a lack of water intake or not enough essential fatty acids in your diet.

One very common cause is lack of fiber.  If you aren't eating enough vegetables and getting enough fiber in your diet, you can remedy the situation by trying one of these natural juice recipes for constipation.


When dealing with constipation, there a number of natural constipation remedies you can choose from.

As I mentioned earlier, it's also important to add more water to your daily intake. You can drink it plain or dilute your juices with it. Whichever you prefer, as long as you do drink plenty. 


If you don't have a water filter, I highly recommend Aquasana for quality. Good water is probably one of the most underestimated elements in relation to good health.

If you can afford to do so, invest in a Genesis Platinum Water Ionizer and enjoy the benefits of drinking alkaline water to improve your body pH and your health.


 Cures For Constipation Juice Recipes
Freshly juiced fruits and vegetables are full of vitamins and minerals and can aid in relieving constipation. Besides that, they're delicious. See which is your favorite.


Recipe 1
8 ounces Carrot Juice
8 ounces Apple Juice
Recipe 2
8 ounces Carrot Juice

4 ounces Celery Juice
4 ounces Apple Juice


Recipe 3

12 ounces Carrot Juice
4 ounces Spinach Juice

Recipe 4
2 spinach leaves (or dandelion leaves or cabbage leaves)
1 green apple with the skin on
100 grams dried prunes (stones removed) soaked in water overnight
100 grams fresh or dried figs (soak if dried)
50 grams fresh rhubarb
50 grams fresh cherries (stones removed)
Juice all items and dilute with water if desired.

Recipe 5

Recipe 6
1/4 head red or green cabbage
3 stalks celery

Recipe 7

Recipe 8

Recipe 9
Handful of parsley

4 carrots

1 garlic clove

2 stalks celery

Handy Hint: It's often helpful to use the larger fruits and vegetables to push the smaller bits through the hopper of the juicer.


I hope you discover that these cures for constipation recipes work wonders for you. If you find they aren't enough to do the job, try adding some fiber to the juice. Ground flaxseed or Salba is great. Even better is Herbal Fiberblend. That should definitely do the trick.


If you'd like to add your own special concoction to the list, just use the form below. I'm sure others would like to give it a try, too.


To your good health!
Have A Constipation Question or Comment?
If you have any questions about constipation feel free to ask them here. Please be as specific as possible with lots of details so that we can have the best chance of helping.

Maybe you have an experience of your own to share that will encourage and help others find relief from constipation. Please take a couple of minutes to tell us about it.
Questions and Comments by Other Visitors
Click the links below to see the questions and contributions from other visitors to this page.

Add your opinions and comments if you'd like to help...

Return from Cures For Constipation Juices to Symptoms of Constipation 
Return to All About Parasites Homepage