Salba Grain

What is Salba, And What Can It Do For You?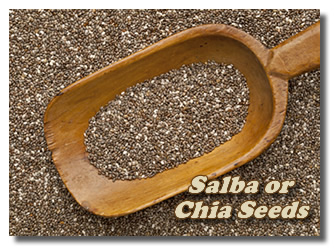 The lowly Salba grain is fast becoming what many people consider the world's most perfect food.


You may have heard talk of the search for a super food. Salba may be the end of the search!


Salba's scientific name is Salvia Hispanica L and was used extensively by the Aztec's for medicine, and to provide energy.  The more common name that you may be more familiar with is the humble chia seed or chia grain.


There are actually two kinds of Salba seeds, black Salba seeds and white Salba seeds. It's really the white Salba seeds that are so exciting and packed full of nutritional benefits. 
Nutritional Benefits of Salba Grain

There are so many amazing nutritional benefits of the Salba grain. It's almost one of those "too good to be believed" type of things. :-)


Because I believe in an amazing Creator, I find it more believable to find rich and nutritious natural foods that can help improve and maintain good health.


You'll find in Salba...


More Omega 3 Fatty Acids Than Salmon (8x more!) - Good Omega oils are essential...


Promotes healthy heart functions
Maintains healthy cholesterol levels
Keeps your blood pressure at safe levels
Supports a healthy cardiovascular system


There are different forms of Omega 3's. The type in Salvia Hispanica L is alpha linolenic acid rather than the DHA and EPA that is in fish. It is best to have both forms, so don't give up your fish oils altogether. :-)

More Magnesium Than Broccoli (15x more!) - Magnesium is needed for a healthy heart and arteries.

More Antioxidants Than Blueberries (30% more!)

More Calcium Than Whole Milk (6x more!)

More Potassium Than A Banana (2x more!)

More Fiber Than Flaxseed (25% more!) - Salba contains both soluble and insoluble fiber that helps keep your bowels regular without causing diarrhea. Here are some comparisons to consider...


Salba absorbs 12 times its weight in water very quickly. That's really remarkable. That's more than twice the amount as flaxseed. This is a key reason why Salba is so incredibly soothing. Because of this absorption, it allows your waste to gently glide out of your system.


Salba is more than 35% fiber. The percentage is much higher than flaxseed or wheat bran. That means you need a lot less to get the same benefits.


Salba is pretty tasteless. It doesn't change the taste of your food, so you can easily mix it in with just about anything and enjoy. 


Salba Is A Natural Energy Booster
One of the most positive benefits of eating the Salba grain is the way it boosts your energy levels. I've read testimonials from people of a wide range of ages. They love the increased energy they feel each day.


It may be because Salba is such a complete superfood. It provides at least three "boosters" that your tired-out body has been missing:


BOOSTER #1 Salba has over 30 different nutrients in their whole food form. Every tiny little Salba grain is packed with the nutrients that your body desperately needs. Even doctors will tell you that it's best to get your nutrients in the form of food whenever possible.


BOOSTER #2 Super-rich fiber. All the fiber in Salba slows down your digestion, giving your nutrients an even better chance of getting absorbed. It also evens out your absorption of carbohydrates, so your cells get a slow, smooth supply of fuel.


Yet even though it pumps you up so powerfully, Salba actually makes you less hungry, so you are much more likely to lose weight.


BOOSTER #3 Nature's PERFECT PROTEIN FOOD. Whether you are a vegetarian or not, your muscles need plenty of protein to stay strong and toned. Salba is richer in protein than soy, not only that, its protein is more complete.


Unlike soy, which can be harmful in large amounts, Salba's protein contains all the essential amino acids that your body needs to build muscle. And it's not processed with chemicals, as so many soy products are. That's why Salba is often called the perfect protein source. 


When And How To Use Salba

Because Salba (Salvia Hispanica L) is a whole food, it is beneficial to use it all the time. You don't have to worry about becoming dependent on it, because it is not addictive and has over 30 nutrients that your body needs to function at optimum levels.


My mom uses Salba regularly, as well as several other of my family members. In fact, my niece started giving it to her toddler when he was really suffering with constipation. It worked like a charm! It's definitely one of the best all-natural remedies for symptoms of constipation.


So, whether you want to use Salba just to STAY healthy, or whether you have some health issues you want to improve, Salba seeds - whole or ground - are an excellent choice.

All you have to do is sprinkle one or two teaspoons of the Salba grain on any of your favorite foods once a day. It can be added to your breakfast foods, mixed in yogurt, blended into cake or cookie mix, stirred into your milkshake...

...the options are only limited by your imagination.


In Summary, this is a list of commonly reported benefits of regular use of the Salba grain as part of your daily diet:


Increased Energy Levels
Defense Against Aging Degenerative Diseases
Supports Joint Mobility Eliminating Stiffness
Balances Blood-Sugar Levels
Provides Omega 3 Benefits without the Fishy Taste
Helps Control Food Cravings and Improves Weight Management
Promotes Heart Health
Manages Cholesterol Levels
Regulates Blood Pressure
Improves Skin Condition and Complexion
Aids In Digestive Regularity by Easing Occasional Constipation, Diarrhea, Bloating, Cramps, and Gas
Assists in Natural Detoxification
Boosts Your Immune System
Provides Natural Electrolytes for Athletic Recovery


I like getting the best prices on just about anything I buy. I searched around and discovered that the cheapest place to buy good quality Salba grain is usually at Puritan's Pride.


Have A Question or Testimonial About Whole Food Supplements?
If you have any questions about whole food supplements feel free to ask them here.

You might have an experience of your own to share that will encourage and help others find relief and better health. Please take a couple of minutes to tell us about it.
Questions and Comments by Other Visitors
Click the links below to see the questions and contributions from other visitors to this page.

Add your opinions and comments if you'd like to help...

Return from Salba Grain to Whole Food Supplements 
Return to All About Parasites Homepage