Itching All Over Including Eyes And Scalp (Not Scabies)
by Nikita
(UK)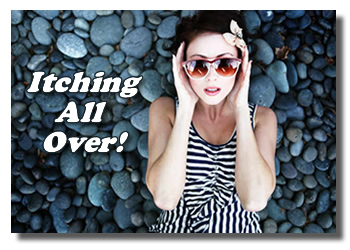 Need Help For Itching All Over Including Eyes And Scalp
I am suffering from a horrible itching parasite as are my mother and brother.


They have both had this problem for 3 years which they believe they contracted on holiday in southern Spain whereas for me it is much more recent (although possibly previously dormant).
I presume I caught it from them somehow but not sure how, however I also spend a lot of time working in Spain so this may be a link.
It is an all over body itching including scalp, eyeballs and everywhere you can think of including face, inside nostrils, mouth, lips etc.
It itches and sort of burns all day constantly, though is much worse at night especially about 3am.
It also means tiny spots or lumps in random parts of the body and feels like things are moving in different places at the same time. Scratching seems to spread the problem.
Sometimes it gives the appearance of almost glitter on the face and body where whatever it is catches the light. Other effects are smelly farts and needing to go to the toilet a lot.
It makes you thinner and feel really low, though this is in part due to the symptoms as much as the parasite itself.
Strawberry root tea, black seed oil (Kalonji), citricidal and black walnut tincture all help but only seem to control the problem rather than getting rid of it.
My mother and brother have had a lot of medical examinations including the hospital for tropical diseases in Liverpool, but no one can seem to find anything wrong.
I haven't been yet as it is still recent for me and I want to keep a diary of it before going to see my doctor.
Has anyone had anything similar or have any clue as to what it might be? It is really hard trying to combat something when the parasite is unknown and the medical profession aren't being helpful at all. All help gratefully accepted, it is ruining all our lives!
It's more like almost imperceptible little bumps on the skin and the feeling that things are moving around underneath the skin constantly all over the body and scalp. It's driving me and them nuts!
It's not painful but burns a bit and as it's constant but you can't scratch because it spreads them, it's so uncomfortable
Incidentally, I'm a vegetarian although my mum and brother aren't and none of us have any pets and haven't done for about 15 years.
-Nikita
---
Hi Nikita,
I'm sorry to hear you and your family are suffering so dreadfully, and that your mother and brother have been suffering for so long.
There are so many different kinds of parasites in the world, and, of course, they have not all been identified. As much as we like to have an exact diagnosis from a doctor, that isn't always possible.
One thing we can usually count on is the way the body works. If you can give your body the tools it needs, it can often fight off whatever is invading it, even if we don't know what that is.
The two main types of tools your body needs are cleansing tools and building tools.Cleansing:
You mentioned some herbs that are pretty good in dealing with parasites, but you obviously need something a bit stronger for cleansing.
Unfortunately, my favorite herbal cleanse (
Herbal Fiberblend
) is no longer available in the UK as some of the herbs are restricted (unless you want to pay for the extra postage to have it sent in from our SA office).
However, there is another option available in the UK now to replace
the HFB. It's called
Fibre Balanc
and has many of the herbs of HFB and can be used in the same way.
Herbal Fiberblend has 17 different cleansing herbs that are anti-fungal and anti-parasitic mixed in with the psyllium fiber, which is why it is the ideal cleanse if you are able to access it.
I always like to suggest a full 3 month cleanse. You start out with 1 tsp. morning and evening (mixed in water or juice) and then after 5-7 days, go up to 2 tsp. and then up to 1 heaping Tablespoon morning and evening. (To be taken at least 1 hour away from the other supplements.)
It will help your body to eliminate the parasites. For a 3 month cleanse as described, you'll use 3-4 pots of HFB each.
If you decide to go with the Fibre Balance instead, I'll send along instructions for using it as an alternative.
The second cleansing supplement I use and find effective is
Bear Paw Garlic
- Garlic is a wonderful antifungal, and Bear Paw Garlic is particularly potent (and odorless, too). You'll need 1 bottle each. (Take 3 capsules; 1 capsule 3x a day. This is enough for 1 full month.)
Building:
The second set of tools are for building up your immune system. You not only want to help your body rid itself of parasites and toxins, you also want to give it the vitamins, minerals, and nutrients it needs to build healthy new cells and good bacteria to get the system back in balance.
These are my best recommendations for building...
Florafood
- This is a combination of probiotics (good bacteria) that build up the friendly bacteria in your gut flora and help fight off the bad bacteria, fungus, and parasites. You'll need 3 bottles each. (Take 6 capsules a day; 2 capsules 3x a day. This is enough for 1 full month.)
Leaf Greens
- This is a whole food supplement powder made from barley grass, spinach, field pea, and faba bean that have been juiced and dried at low temperatures to keep in the live enzymes.
The Leaf Greens is extremely rich in the nutrition that your body needs to help build healthy cells and have a strong immune system. Take 1 tsp. 1-2 times per day mixed in juice or water. One pot each should last you 1-2 months depending on how much you take per day.
Redibeets
- This is another whole food supplement powder made from freshly juiced beetroot. Beets are one of the most potent liver cleansers to help remove toxins from the body, and they also provide the body with rich vitamins and minerals.
Well, Nikita, I know those are a lot of recommendations, but if your family has been battling this for so long without success, drastic measures are needed.
The good thing about these particular natural remedies is that they are very good for you (parasites or not) so you don't have to worry about harmful side effects. I can't guarantee that these alone will do the job, but I think you'll have a pretty good chance of beating it.
To order any of the above products, you can get them at wholesale prices with this
UK order form
.
I hope you, your mother, and your brother will be able to get rid of these annoying little critters once and for all.
To your good health!
~Angie from allaboutparasites.com
P.S. Just thinking about the skin condition - it may help soothe the itching if you take a warm bath with some good apple cider vinegar in it (organic apple cider vinegar with the "mother" in it is best).