Scabies Parasites - HELP!!!
by Brenda
(Tyler, TX)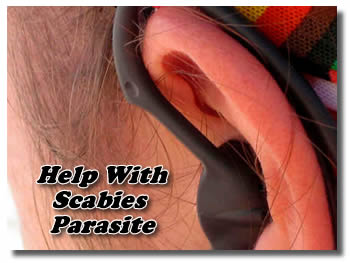 I need scabies parasites help!
Two months ago my daughter and I started itching in our scalps. We wear head sets at work and all employees use the same head sets.


After visiting three doctors they all said it was scabies parasites and prescribed permethrin. The medication never worked. I was given both oral and topical antibiotics.
We are still having this problem. It seems to be coming from the scalp and burrows into our skin and causes great pain. There are several different looks of this parasite, long like a gray thick hair, white and fuzzy, a mite looking, a black bug.
The places where they have been are red and raised and become very itchy. When we scratch there are what seem to be a egg sack or big skin fleshed colored thing inside the bump.
I know scabies are rare for the head. This thing comes from the head and migrates down the body leaving sores. You can feel it digging into the skin. This would be the gray mite looking thing. Also it seems to drop small white triangle things as well.
PLEASE HELP US! THE DOCTORS THINK WE ARE CRAZY!!!
Thanks,
Brenda
---
Hi Brenda,
I'm so sorry to hear that you and your daughter are suffering and unable to find relief. I'd like to ask you a few questions, but I'll also give you some ideas.
First of all, I'm wondering if you were careful to thoroughly wash all clothes, bed linens, towels, etc., when you were using the permethrin treatment? You also need to be sure that you vacuum thoroughly so that you do not re-infect yourself.
Also, everyone in the house needs to be treated, not just you and your daughter. Did you do all of these things?
It's possible that the scabies are resistant to the common permethrin treatment as many parasites build up a tolerance to chemical treatments, and the scabies parasite is no exception.
Here are my suggestions:
There are several natural treatments recommended for getting rid of scabies parasites. I want to be clear that I haven't had to treat myself yet for scabies (thankfully) so I can't give you first hand experience.
I've done some research, though, and found what I believe to be the best options. In other words, this is what I would use myself.
First, I think it is important for you to treat yourself both internally and externally.
Internally
- Take 2-3
Para 90
in the morning and 2-3 in the evening - both with meals for ONE MONTH non-stop (exactly 2 bottles if you take 2 twice per day, 3 if you decide to make it 3), PLUS take
Florafood
3 times per day (1 capsule each time) for at least the same amount of time.
The Para 90 is full of anti-parasitic herbs and is great in ridding the body of parasites.
The Florafood is a blend of probiotics to help strengthen your immune system, especially since you recently took antibiotics. This is important.
This may be sufficient for your internal treatment, but personally, I would also use
Herbal Fiberblend
as an extra measure to help flush out and
cleanse the entire digestive tract.
All three of those AIM products can be purchased online here at wholesale prices.Externally
- There are a couple of options for natural remedies for scabies parasites that you can apply topically that I would recommend you to consider. There are actually
many more
to be found, but I am only recommending those that I believe to be the most sound based on my own knowledge and research.
Tea Tree Oil - Pure tea tree oil can be applied directly to the skin using a cotton ball.


Warning: Some people can be allergic to tea tree oil. You may want to 'test' it on one portion of your skin the first time to see if you are one of those people. The allergic reaction will make you break out in a rash that is very itchy. I know this sounds like what you are already experiencing, but I wanted to warn you just in case.



Manuka Oil - Manuka based products have been proven to be very effective against scabies. Place 10-15 drops of 100% Manuka oil in your bath. Also, add 10-15 drops to your wash when laundering your clothes and bed linens.


Manuka oil can also be applied topically, but you probably should dilute it in a bit of warm water or even olive oil before applying.



Poke Root Oil - Poke Root, also known as pokeweed and poke sallet, can be boiled in water and applied to the skin.


If you don't know what the plant is or you don't have it in your area, you can just buy the poke root oil and mix 5 drops of oil with a cup of warm water and apply it to your entire body (not your eyes, of course). This, too, can also be blended with oil as a carrier if you prefer.


If you are going to do this yourself, remember that it's the root of the plant you want to boil, not the leaves.
Any of those remedies should work as a topical solution to ease your inflammation and itching and help clear up your skin.
Keep in mind that everyone is different, so what might work best for you may not work as well for someone else. If you like, you can even use the tea tree oil along with the manuka oil.
All of these oils for natural treatment of scabies parasites can be found in their best organic form at Botanic Choice
.
Just remember to treat the entire family and thoroughly clean the surroundings. Some people who are not careful to do this have a recurrence of the problem.
Brenda, I sincerely hope that you and your daughter are able to get rid of these monstrous little beasts soon. I do believe these recommendations, if followed, will give you relief and healing. I'm asking the Lord to help you get rid of these scabies parasites asap.
Please keep me posted on your progress, what steps you take, and how quickly you get results. I'm sure other fellow sufferers would be glad to know, too.
To your good health!
Angie from allaboutparasites.com