Worm-like Bug!
by Kaitlyn Henry
(North Carolina)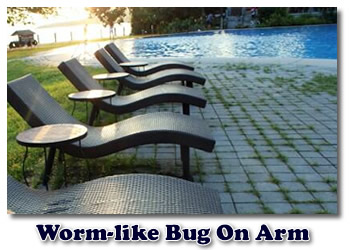 Okay so, today I was outside tanning on my lower deck (which is about 2 feet from the grass) and I looked up to find a really cute, skin colored, worm-like bug on my arm.


I looked at it for a little while and noticed that I could see through the tail of it, and it was a bluish black color.
When I went to pick it up, I put my finger in front of it to see if it would climb on my finger and it moved side to side and then looked up, like normal worms do, then it went straight down into my arm. I didn't think much of it until my aunt freaked out about it.
I know for a fact that it wasn't a tick. I've looked at pictures of ticks and there is nothing poking above my skin. There is 3 small small bumps, but I think two of them are where I tried to squeeze it out of my arm (unsuccessfully).
I really don't know whether or not I should go see a doctor. I would really like to know what went in me!
Help,
Kaitlyn
---
Hi Kaitlyn,
Sounds like this worm-like bug gave you quite a scare. Were you able to discover any more about it? What does your aunt think it was?
Have the bumps cleared up yet? Are you having any other reactions to the worm going into your skin, like a rash or feeling unwell?
I'd look around the yard to see if you could locate another worm so that you could have a better chance of getting a proper identification.
Do you happen to have pets that may have been the source of the bug?
I think if I were in your situation, I'd apply some tea tree oil to the area where the worm went into the skin and then I'd also give myself a parasite cleanse using
Para 90
and/or
Herbal Fiberblend
, just to be on the safe side.
I know I'm late in getting back to you (sorry), but I would like to hear how you are doing.
To your good health!
Angie from allaboutparasites.com