Parasite That Looks Like Hair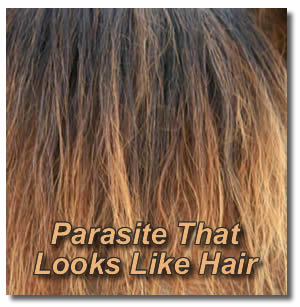 Parasite That Looks Like Hair
I have parasites in my hair that looks like my hair. When they are on any fabric, they camouflage to look like the fabric.


I don't know how to get rid of them. I have tried all kinds of dangerous enzymes, and some essential oils and nothing seems to work.
Sometimes I pass them in stool and I can feel them crawling and biting in my genital area and in my hair on my skin.
I obtained them when I started craving and eating dirt so these things are real and not imaginary.
They grow so fast and are in every piece of fabric in my home. I am not sure if they are glued to my hair or they ingest it.
My hair use to itch so bad that I shaved it and within a few days they are back. On fabric, they tie themselves in the fabric.
Please do not think I am crazy, these things are real. If you can tell me how to get rid of them, I would appreciate it.
---
Hi,
I'm not familiar with a parasite that looks like hair and manifests itself in the way you are describing.
If you were simply describing a parasite that looks like hair in your stool, that wouldn't really be surprising. Intestinal parasites are not at all uncommon.
Your description of a hair-like parasite that is attaching itself to your furniture and changing itself like a chameleon to match the location is not something I've dealt with.
Regardless, I'd be tempted to try a good internal parasite cleanse and make every effort to boost your immune system so that it might be able to fight off whatever has gotten a hold in your system.
You mentioned craving dirt some time
ago. Do you still feel that way? Usually cravings for dirt indicate a mineral deficiency.
I've spoken to women who craved and ate dirt during their pregnancy. Their bodies did not have all the nutrients they needed and hence the cravings.
Here's what I'd consider trying:
All of these supplements are safe and very helpful to the body. I don't know if they will be sufficient to completely rid you of the particular problem you are suffering from, but they have the potential to do so.
Is there anyone who lives with you? Do they have the same symptoms as you do?
You mentioned trying essential oils. Have you tried spraying/misting a tea tree oil (or oregano or neem oil) and water mixture over your furniture to try to kill off parasites? It may be worth trying. I would spray and then vacuum everything about an hour later to try to get rid of them.
If you don't want to use essential oils again, try
raw
apple cider vinegar instead.
To your good health!
Angie
Update on "Parasites That Look Like Hair:"
There have been so many comments to this page that it became long and difficult to read, especially on mobile devices.
It was requested that the page be broken up to make it easier to read, so please find the earlier comments at the following links and add your own as desired...